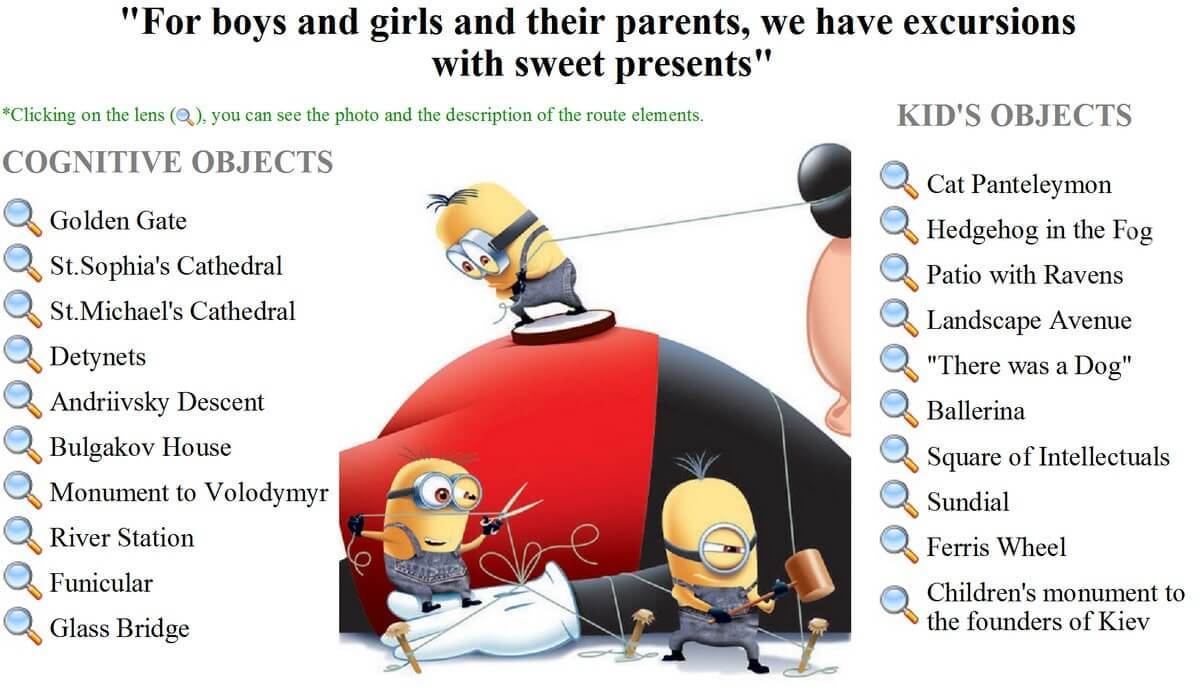 ---
We invite you to kids' tours around Kiev. We carry out both educational excursions, and the ones with quest elements of various formats and for any age. Join our sightseeing tours in the districts of the capital, as well as thematic (Kyiv Fortress, Famous Kievites, Legends of St. Andrew's Descent, etc.) and suburban (Pyrohovo, Mezhyhiria, Bila Tserkva, etc.) tours. See the list of kids' excursions below. Duration – from 1.5-2 hours.
---
Map of children's objects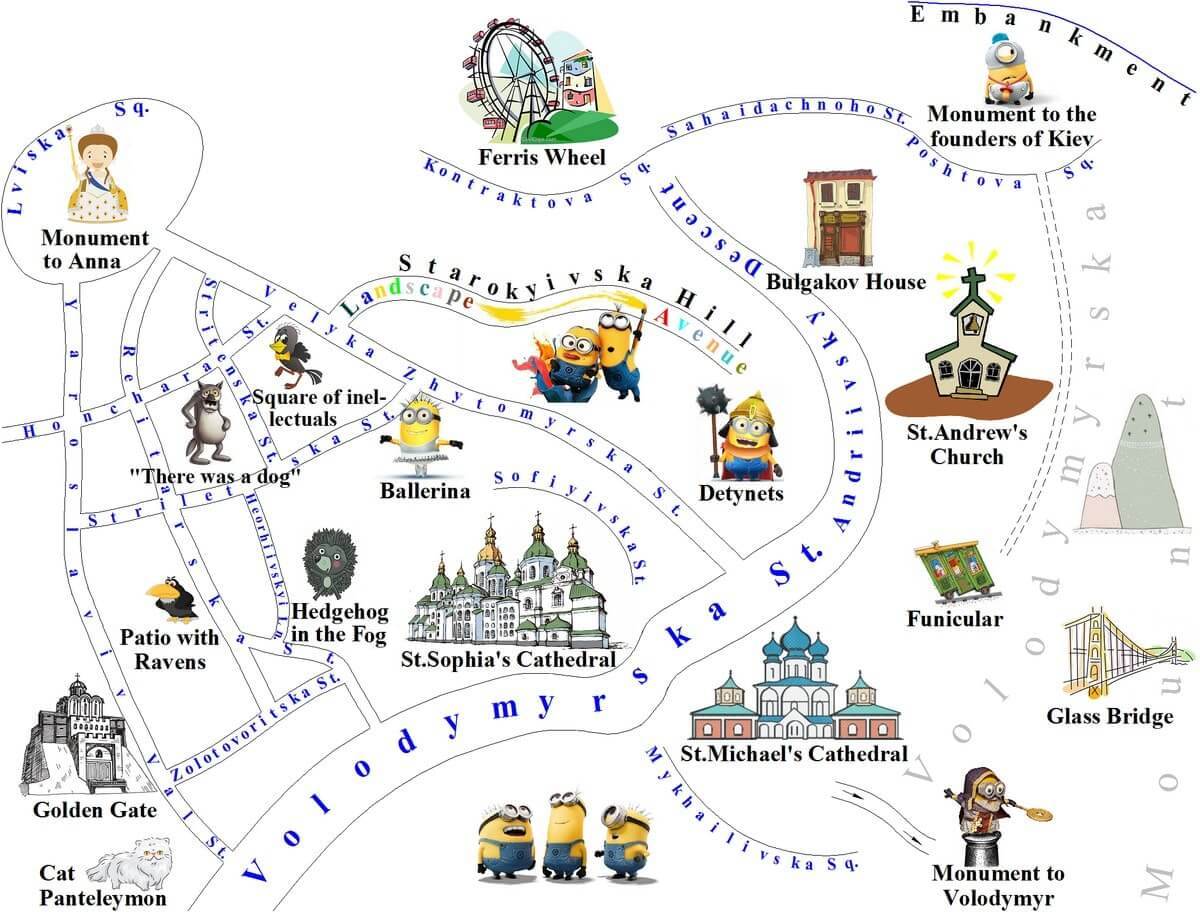 ---
LIST OF CHILDREN EXCURSIONS
---
We conduct group excursions and thematic excursions for children, as well as family excursions for adults with children:
– Fall in love with Kyiv – a sightseeing tour along one of the districts of Kyiv (downtown, Upper Town, Podil, Pechersk, Lypky, New Construction, Lukianivka and Tatarka). During the tour, you will learn about the origin and development of the city, walk through the places of Vladimir the Great and Yaroslav the Wise, as well as see the main attractions and architectural sights. We can make a sightseeing tour either historical or "light", without information overload. Duration – 2-3 hours.
– Visiting the cat Panteleimon – a tour around charming Kyiv. You will hear the legend about the founders of the capital of Kyiv Shchek, Horyv and their sister Lybid, epics about the superhero Illia Muromets and Prince Vladimir, who threw the pagan god Perun into the Dnieper, as well as the legend about the hero Cyril Kozhemiaka, who saved the lands of Kyiv from the Snake. During the tour, you will see a famous Kiev cat Pantyusha, the Hedgehog in the fog (popular Soviet times cartoon character), a courtyard with ravens and other fairy-tale characters living on the Landscape Alley. Duration – 2 hours.
– Legends of St. Andrew's Descent – a popular tour along one of the oldest streets of Kyiv, where every spot is filled with history. There are museums, theaters, galleries, cafes and a souvenir market. During the tour, you will hear the legend of the Apostle Andrew, find out why the St. Andrew's Church does not have a bell tower and what secrets the house of Bulgakov keeps. We will compulsory take a picture near the monument to famous comedy heroes Pronia Prokopovna and Golokhvastov, and also go up to Zamkova Gora to admire Podil, the left bank of the Dnieper. Duration – 2 hours.
– Mystical Kyiv – a mysterious tour filled with incredible stories about poltergeists and ghosts. Since ancient times, Kyiv was considered a mysterious city, where strange inexplicable things used to happen. During our tour, we will reveal the secret of the House with Chimeras, will explain why no one lives in Richard's Castle; tell about the enchanted Green Theater and its labyrinths; as well as will show places where treasures are buried and where you can make wishes to come true. Duration – 2 hours.
– Famous Kyivites – an excursion dedicated to famous citizens of Kyiv. We will diverge from the school curriculum and get acquainted with the life of Lesia Ukrainka, M. Bulgakov, K. Malevich and the symbol of the Ukrainian nation B. Stupka. Not only artists and cultural figures left a trace in history. Our compatriots also made discoveries in aviation (I. Sikorsky) and engineering (E. Paton). You can't but mention an outstanding surgeon N. Amosov, whose name is among TOP 100 greatest doctors of mankind. During the tour, we will talk about achievements of many other people of Kyiv known all over the world, and will show where they used to live and work. Duration – 2 hours.
– Kyiv Fortress – a fascinating tour around one of the world's largest stone-earthen fortresses. Not everyone knows that the remains of this fortress, which became an architectural monument of military engineering, have been preserved till now in Kyiv. On the basis of one of the fortifications, a museum complex was opened. During the tour, you will learn about construction of defensive structures, about the art of war, as well as about the prison in Diagon Caponier and why the caponier bears such a name. There is also an unusual Museum of the prison. Duration – 2-4 hours.
– Ukrainian culture, customs and traditions – a half walking, half bus excursion, where you will get acquainted with the national traditions, learn how our ancestors lived and what customs they had, as well as will see real Ukrainian huts and household utensils. We offer you a choice of visiting the Cossack settlement "Mamaivv Sloboda", the largest open-air ethnographic museum "Pyrohovo" in Ukraine or the Kyiv Rus park, where you will plunge into the atmosphere of Kyiv Rus. Duration – 4 hours.
– Kiev. Memorable dates – excursions dedicated to the tragic events in the history of our country. We invite high school students on excursions, such as "Ukraine during the II World War", "Babi Yar", "The Holodomor of 1932-1933", "Chornobyl", "Heavenly Hundred". Duration – 1,5-2 hours.
– Museums of Kiev. We organize and conduct excursions to any museum of the capital of your choice. You can see the top 10 museums in Kyiv here. If you have not decided or have not found the museum you are interested in, we will help you with the choice!
– Countryside trips. We organize one-day tours to Mezhyhiria, Bila Tserkva, Buky, Pereyaslav-Khmelnitsky, Chernihiv, Baturin, Cherkasy, Uman, Radomyshl, Korosten, Vinnitsa and many other nearby places.
Join us! It will be interesting, informative and, certainly, entertaining! Tours are designed both for school age kids, and for children who are 5-6 years old, as well as their parents. At the end of each of our trips, the most attentive participants are awarded a prize. In addition, we conduct excursions with quest elements or quest excursions. Call us, pass by and grab with you only positive emotions!