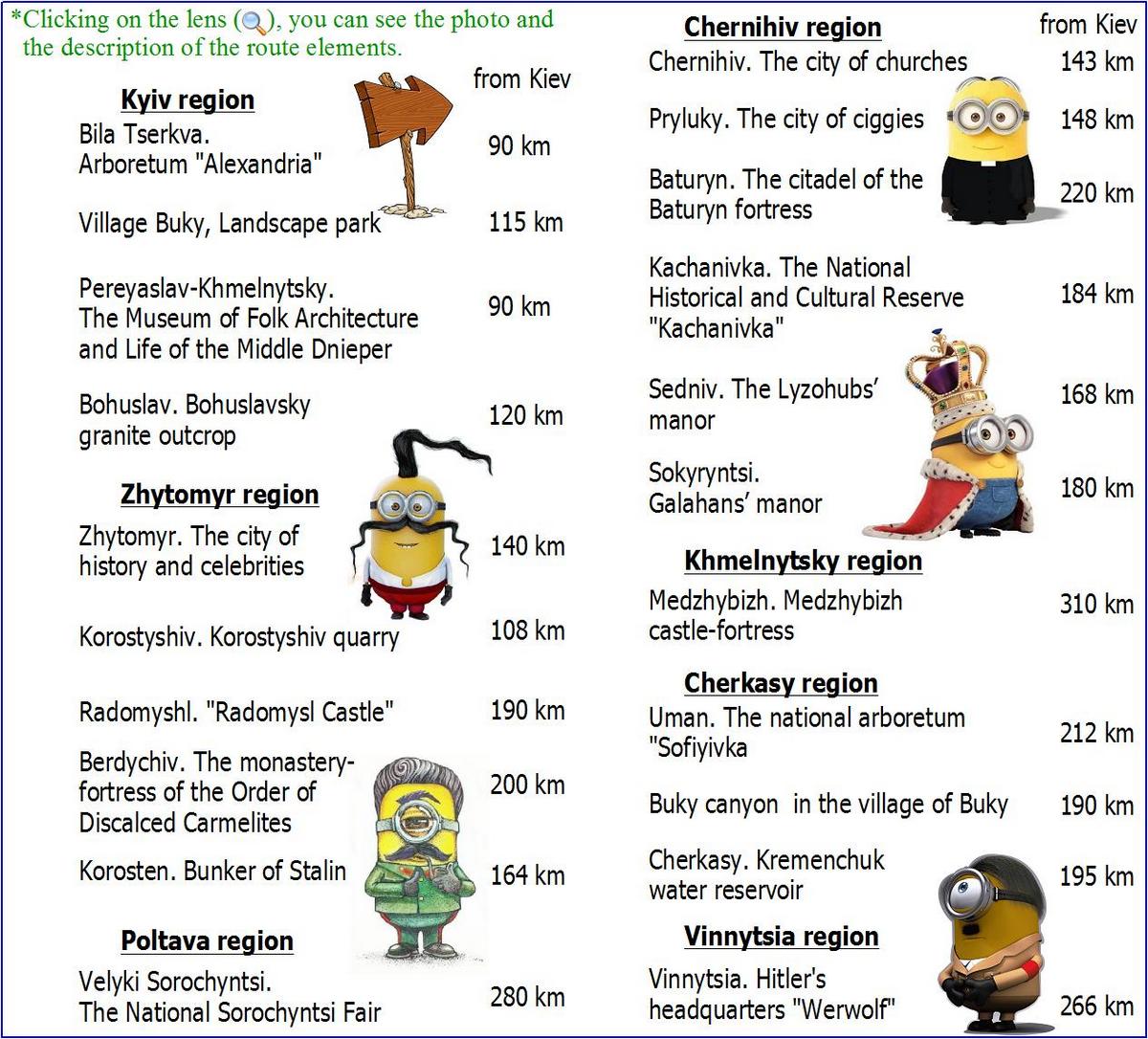 We organize tours to the most popular tourist places of Ukraine, located near Kyiv. Join our one- or two-day trip to the sights of Kyiv, Vinnytsia, Zhytomyr, Poltava, Cherkasy, and Chernihiv regions. Below, by clicking on the pictures by region, you can read about the region and choose your destination. Call us if you make up your mind – and we will make your trip fascinating and comfortable.
---
TOURIST PLACES AROUND REGIONS OF UKRAINE
---
Map of places around Kiev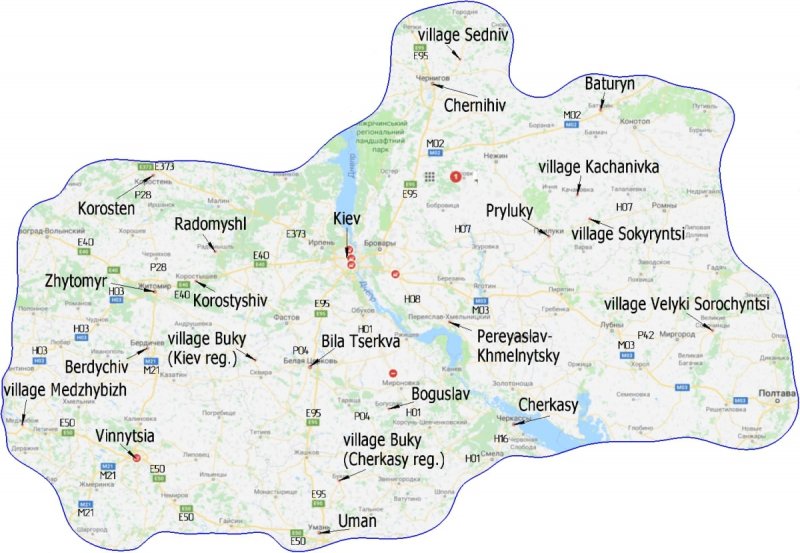 ---
Sights around Kyiv include many nature reserves, open-air parks, as well as interesting objects created not only by humans, but also by nature. These attractions are located within 150-200 km from Kyiv, which enables visiting any of the places marked by real travelers in just one day.
In warm season, tourists especially often visit parks and reserves, such as the arboretum "Alexandria" (Bila Tserkva), founded in the XVIII century, Landscape Park in the village of Buky, as well as the National Dendrological Park "Sofiivka", located in Uman.
Sofiivka, a 180-hectares park, founded in 1796, is now known throughout the world. It is annually visited by over 500 thousand people. Here various trees and bushes grow, ponds and waterfalls are created, and the territory itself is decorated with sculptures. It is worth noting that Uman is known not only as the landscape art of the XVIII century. To celebrate the Jewish New Year, thousands of Hasidic pilgrims come to the grave of Rabbi Nachman, who was buried in Uman.
Special attention should be paid to the unique phenomena of nature that have survived to our days. For example, 120 km from Kyiv, there is the Boguslavsky granite canyon of up to 12 m high rocks. A canyon formed of red and gray granite is considered a place of power with positive energy. The Buk canyon on the river Hornyi Tykych is another place that attracts tourists with its picturesque nature The landscape of this area fascinates with its view, and the rocky canyon has long been called the Norwegian fjords. The Canyon also attracts fans of outdoor activities (rafting, kayaks, rock climbing).
To feel the history, we advise you to go on an excursion to Chernihiv – a city of churches and one of the oldest cities in Ukraine. In the period of Kievan Rus, it was the second largest city after Kyiv. The main attractions of Chernihiv are cathedrals, monasteries and cave vhurches. Every year, pilgrims from all over the Orthodox world arrive to local shrines.
If you want to experience national authenticity, learn about the culture and life of our people, then make sure you visit Pereyaslav. It's a small town with 27 museums. First of all an open-air museum should be mentioned. Here you can see the dwellings, tools and household items of Ukrainian steppe villages from the times of Kievan Rus. Pereyaslav has an ancient history. T. Shevchenko, G. Skovoroda, Sholom Aleichem used to live here for some time.
We named the most popular sights around Kiev. This is not the end of the list though. Not far from Kiev there are such cities as Berdychiv, Radomyshl, Korosten, Vinnytsia and Cherkasy. Each of them has something of its own; something special and unique that attracts tourists from different countries.
Traveling in Ukraine, you will see the treasures of our country and learn a lot of new things. We will do our best to organize for you a fascinating excursion. We aim to surprise!