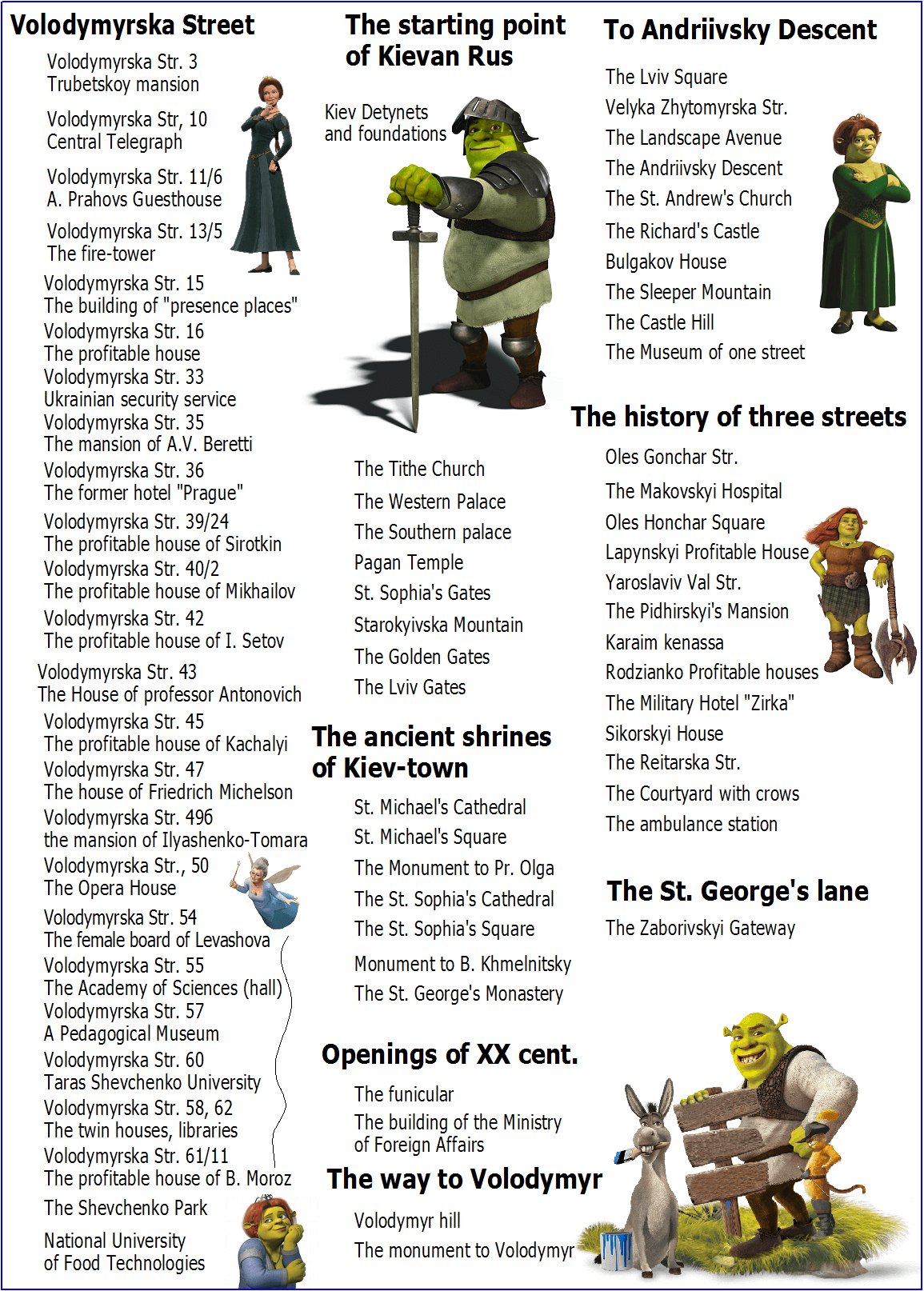 Clicking on the lens icon

, you can see the photo and the description of the route elements.
The Old (Upper) city of Kiev has a very ancient history. The most significant objects that have survived till our time are the Golden Gates, St. Sophia's and St. Michael's Cathedral, the Detynets – the city of Volodymyr (the foundation of Kiev). This part of Kiev has also a Jewish history (Oles Honchar Str.), the acquaintance with it can be continued further in the recently updated Babyn Yar (2106).
In the period of Kievan Rus there lived the royal nobility, important events took place in the squares and main streets, the cathedrals were used for seating on the throne, and the princes of Kiev were buried in them. Those days there were many stone churches and monasteries, such as St. George's and St. Irene's monasteries, the Tithe and Exaltation of Cross Сhurches (on the site of the St. Andrew's Church), St. Theodor Monastery, Yanchyn Monastery and many others.
Firstly there was the first princely settlement with area of about 2 hectares on the Ancient Kiev Mountain. According to the legend, Kiy, Shchek, Horyv and Lybid settled there in the VIII century. Prior to them, the local population of goatskins, potters and tar lived and worked on local streets of Vozdvyzhenka. The foundation of the house of Princess Olga, the foundation of an unknown stone building, a pagan temple are preserved until now.
The city of Volodymyr was founded in the 10th century when Volodymyr the Great came to these lands. The area had increased to 10 hectares. The foundations of the Tithe Church, the South and the West Palace, the St. Sofia Gates (Batyiovi) were left from his city, but the foundations of Kiev and St. Michael's Gates were not found.
The process of building of the city of Yaroslav started in 1037 with the construction of the Golden Gates, the St. Sophia's of Kiev and St. George and St. Irene Monasteries. The shafts from the Golden Gates extended westward along the Yaroslaviv Val Str. to Lviv Square to the Lviv Gates (not found) and then along the Velyka Zhytomyrska Str. (on the spurs of the Ancient Kiev Mountain) enclosed with the trees of the Detynets. In the east direction from the Golden Gates, the trees extended along the Prorizna Str. to Khreshchaty Valley (modern Khreshchatyk) to Independence Square, where there were Liadski Gates (the foundation was preserved). Then the trees extended up till the shafts of the Detynets. The area of ​​ancient Kiev has expanded to 72 hectares. Later, in 1113 the borders of Kiev were expanded by the St. Michael's Golden-Domed Cathedral by Sviatopolk Iziaslavovych, the grandson of Yaroslav the Wise.