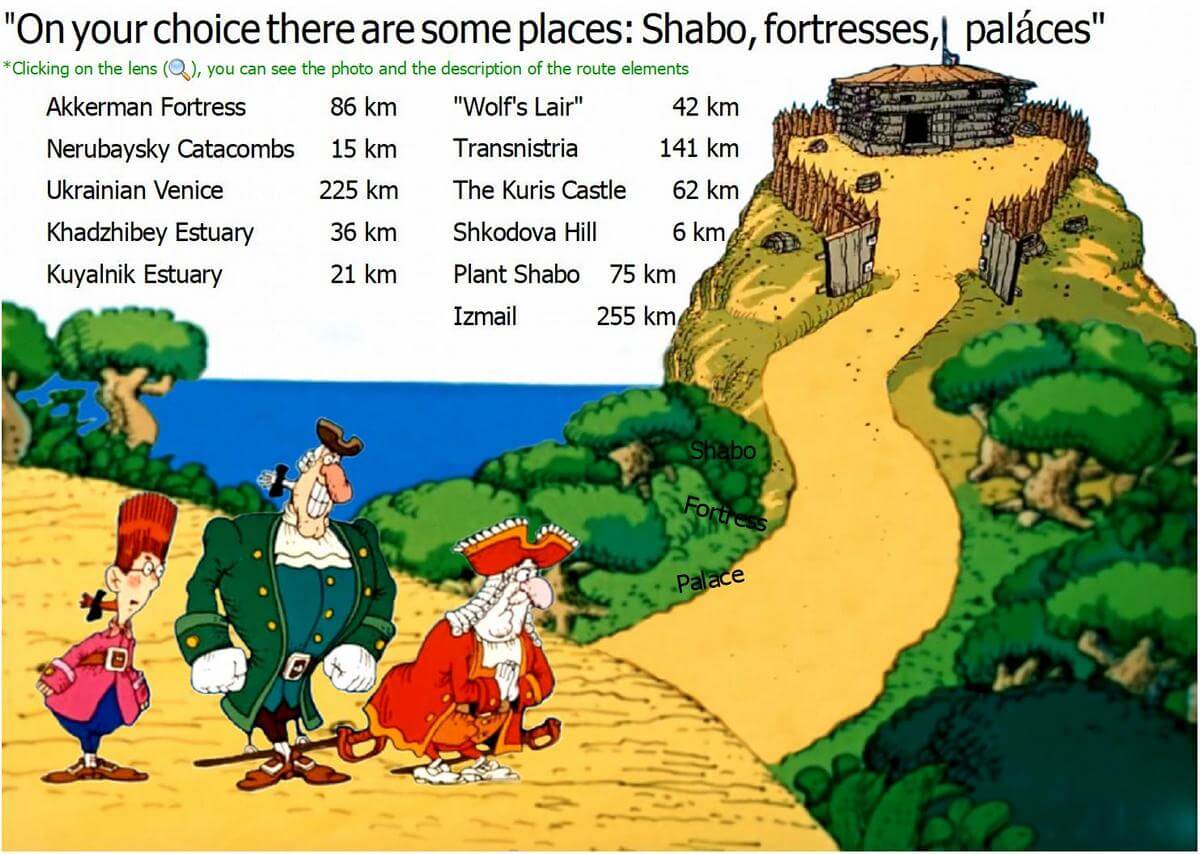 ---
We invite you join our out-of-town excursions to the sights of Odessa region. We offer a choice of visiting the Bilhorod-Dnister fortress, the Shabo winery, the old estates of the Dubetskiy-Pankeevs and the Kurisov family, the ancient city of Izmail, the Ukrainian Venice and other places near Odessa. In addition, we organize one-day tours to Transnistria – an unrecognized state. Visit there will transport you to the times of the USSR. Read more about objects on this page. You can book a tour here
---
Map of Odessa region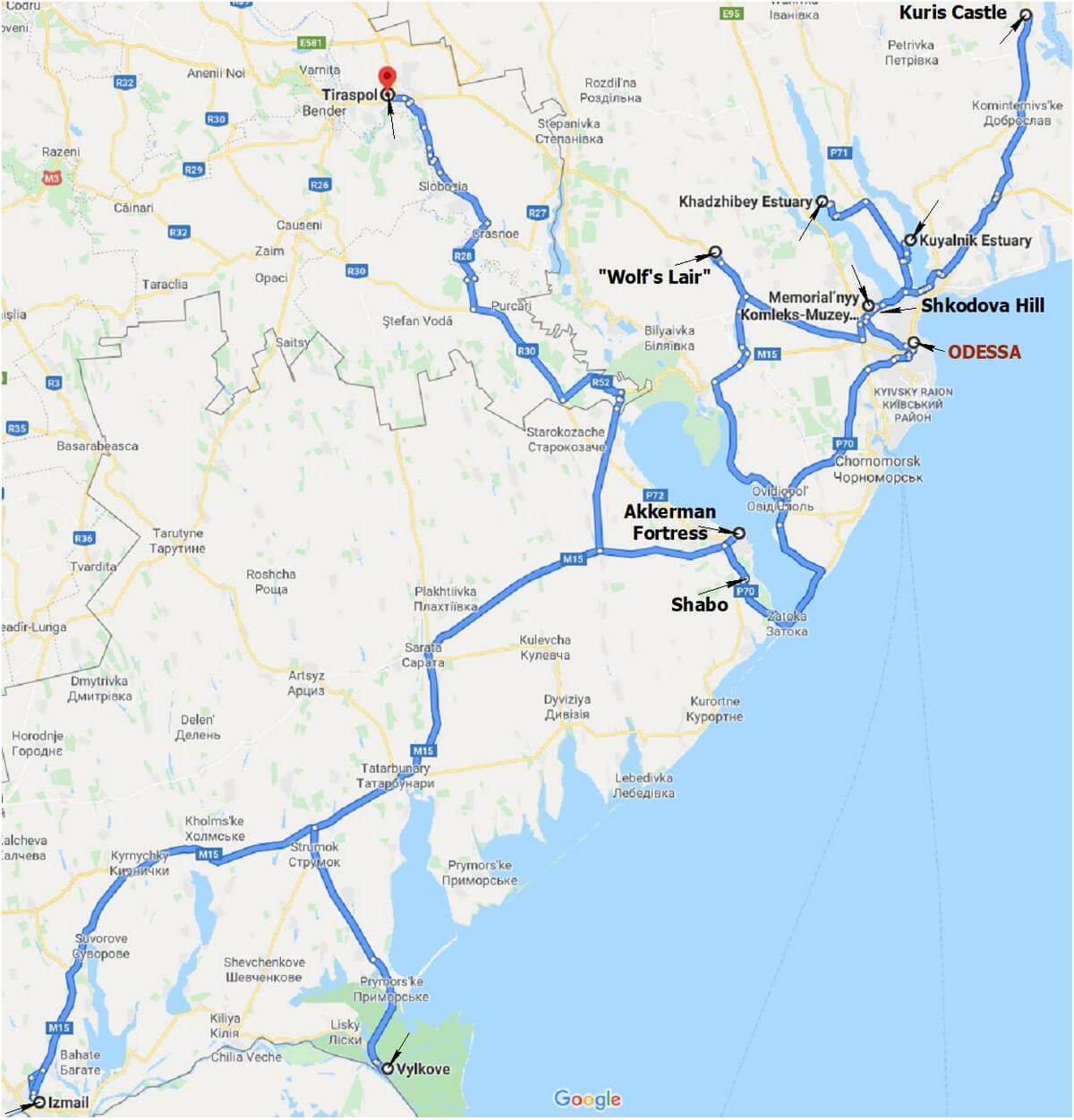 ---
OTHER THEMATIC EXCURSIONS IN ODESSA
---
Odessa region is one of the richest ones in Ukraine in terms of historical monuments that filled the treasury of national heritage. To this day, religious buildings of the XIII-XX centuries have been preserved in the region. Numerous sights of different times, cathedrals, defense and palace complexes, monuments of architecture and landscape gardening of Odessa region are of particular value in the list of historical and cultural heritage of the country.
We invite you to join our guides for out-of-town excursions from Odessa. Among popular tourist routes Bilhorod-Dnistrovsky, Shabo, Vylkove ("Ukrainian Venice"), Izmail, Bolhrad, Kurisov Castle, etc are often mentioned. However, besides them, there are other unusual and fascinating objects worthy of attention.
Thus, on the outskirts of Odessa, driving along the Hadzhibey road, at the foot of the Skoda mountain, there is a unique and little-known place – an ancient Cossack cemetery of the Sotnykivska Sich (XVIII-XIX centuries). The graveyard was laid in 1775, and the earliest of the remaining graves is dated by 1791. On the slopes of the mountain, the remains of cave dwellings, arranged in the rocks by Cossacks-Nerubians, who settled here in the middle of the 18th century, preserved.
The Akkerman fortress located in Bilhorod-Dnistrovsky is the largest and best preserved medieval fortification in Ukraine (XIII-XV centuries). It is worth saying that the city itself is founded on the site of the ancient Greek village of Tire (VI century BC) and is officially considered to be the oldest one in the country. This fact is confirmed by archaeological excavations of the ancient city and a stone tomb of the Scythian period.
A geographic location and a favorable climate have contributed to the development of wine-making in the region. The Institute of Viticulture and Winemaking named after Tairov, ShABO Wine Culture Center, Bolgrad winery, as well as private family wineries were established. Each of them offers guided tours with visits to ancient cellars and wine tasting of the highest quality.
Natural resources with medicinal properties have made Kuyalnytsky and Hadzhibeysky estuaries famous. Every year thousands of vacationers come to improve their health here. There are also nature conservation areas, such as: the Danube Biosphere Reserve, the Dniester plains, the Tiligul landscape park, etc.
Just 105 km from Odessa you will find Tiraspol – the capital of the unrecognized state of Transnistria. The republic bordering the Odessa region attracts hundreds of tourists from around the world who want to feel the spirit of the times of the USSR. Here you can still see Soviet buildings, symbols, signs and monuments to Lenin.
If you are the curious traveler we are talking about, we will gladly arrange for you an individual excursion to any point in the region, accompanied by our professional guide in a comfortable car / minibus so that you have only pleasant memories.