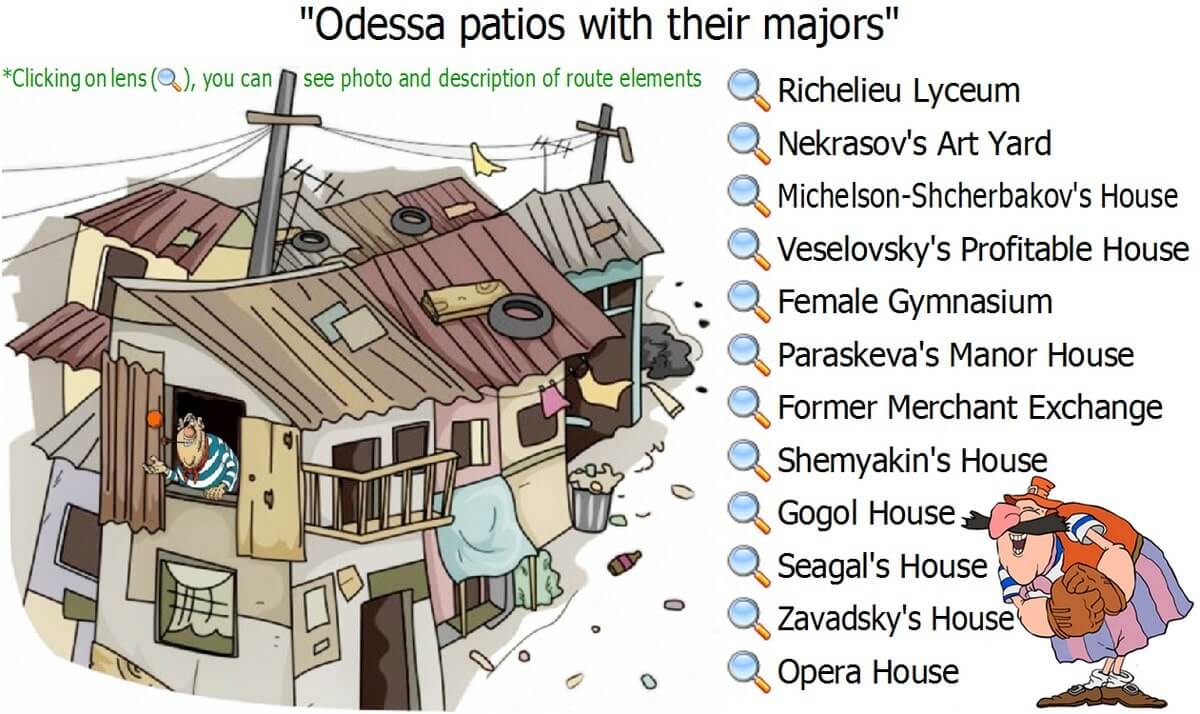 ---
We invite you to the most popular tour – Odessa courtyards. During our tour, we will walk through those streets where you will see both luxurious houses with spacious courtyards, and courtyards with poor buildings of 2-3 floors, as well as just cozy courtyards hidden from the eyes of passers-by. You will plunge into the atmosphere, saturated with real Odessa flavor, in order to feel the spirit of the very same – Old Odessa. Duration – 2-2,5 hours.
---
OTHER THEMATIC EXCURSIONS IN ODESSA
---
Odessa courtyards are a unique phenomenon that exists only in one corner of the Earth. Until recently, life in such deep courtyards was quite vivid, resembling a large communal apartment, where everyone was familiar with each other, making friends and fighting, reconciling and visiting each other. Residents used to gather at the sites to start a conversation with a neighbor, discuss the latest news or listen to new gossips.
Courtyards of Odessa are a special world. It is here that the ancient molding on the arches marvelously combines with shabby stucco, and the cobblestones merge with modern paving tiles. Here, collapsing facades harmoniously connect with a modern lining, and some of them hide their cracks behind retaining walls or wild grapes. Here you will see the dwellings, equipped in the former apartment buildings, stables, janitors and outbuildings.
The main highlight is long stairs that encircle the floors. It is worth saying that some were built in imperial times, as evidenced by the brands of manufacturing factories. But there is also the Soviet era, when housing was sorely lacking, and every inhabitant of Odessa wanted to have their own island with a separate entrance and a tiny balcony. Unchanging attributes remain the clothes drying on the ropes, curly ivy and, of course, cats. Yes, they also live here with proper kitty families!
Looking into any of the yards, you will certainly find some kind of attraction. It can be a flowerbed with a desolate fountain, a table made from a Zinger sewing machine, a marble chess top, unusual sculptures, or even a miniature Eiffel tower. Also you can encounter a monument, for example, to the artist Kostandi, or the only bust in Ukraine dedicated to the creator of Esperanto – Zamenhof. Equally, you can stumble upon street art with picturesque views of Old Odessa, plots from the biography of local celebrities Mishka Yaponchik and Osip Shor. There are interesting murals and graffiti that deserve attention too.
In almost every yard you can see an abandoned well or a water stand pipe, preserved to this day. Thus, earlier it was necessary to collect fresh water due to its shortage and frequent interruptions. However, in fact a street water tap served as a place where the neighbors were gathering to talk about household chores.
Today, Odessa courtyards are the most popular tourist route. During our excursion, we will take you around those streets where there will be the so-called "draft yards", double yards or yards with galleries. Each of them is original and unique. A fascinating journey with stories about the history of the city, life and traditions of these people, as well as about famous and little-known citizens, awaits you.
Our guides