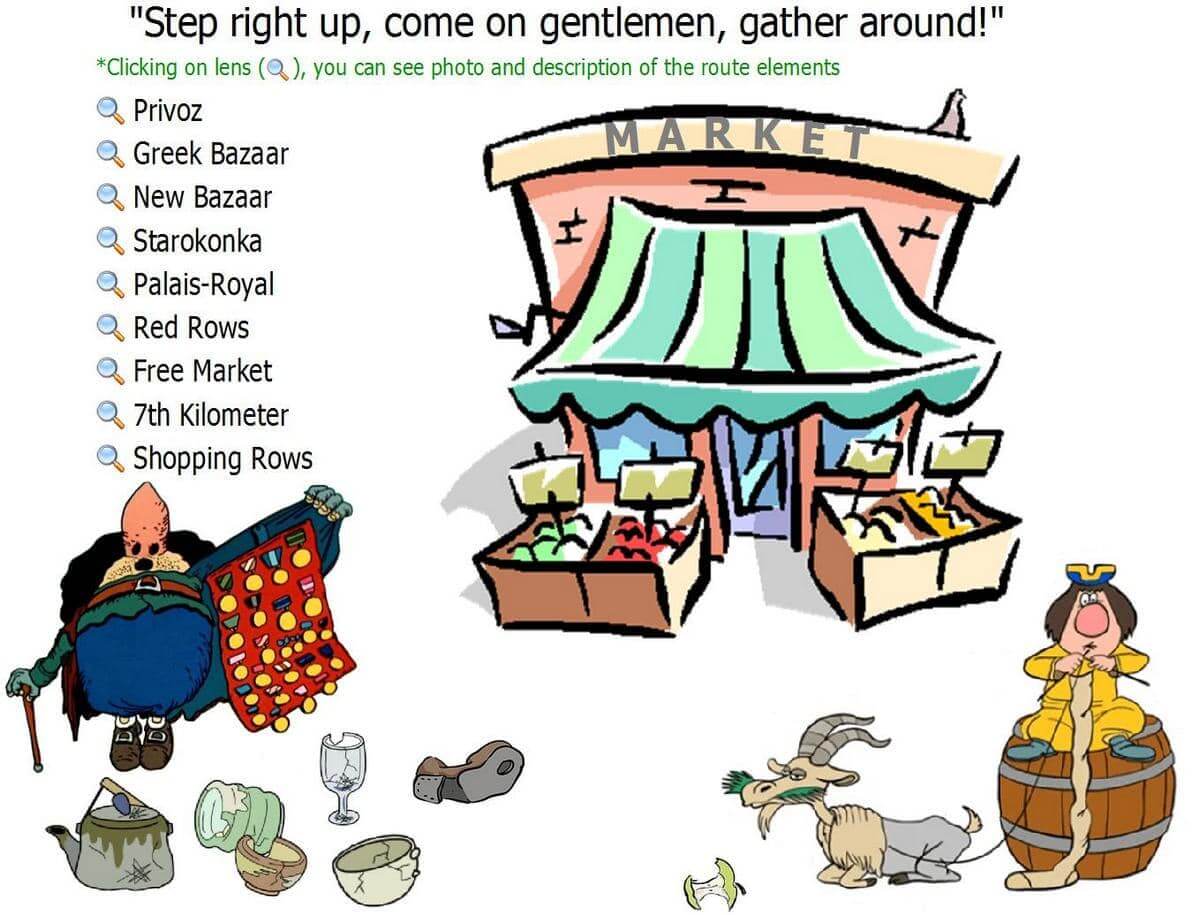 ---
We invite you to Odessa bazaars – the tour is extremely interesting, tasty and healthy! Our route will pass through the trading areas where the first markets in the city arose – Greek, Volnyi, New, Red Rows. During the tour you will learn how trade developed in Odessa, what Odessa bazaars are famous for, what you definitely need to try and, of course, what to buy as a keepsake. In addition, we offer a choice of the oldest and most popular bazaars to visit with our guide – Privoz and Starokonka. Duration – 2-2,5 hours.
---
OTHER THEMATIC EXCURSIONS IN ODESSA
---
In Odessa, trade arose with the birth of the port city. The first bazaar appeared back in 1795. it was called Volnyi (Old Market). Locals used to sell their goods from carts and carriages here. Trade has developed rapidly, becoming one of the main activities.
In the XIX century Odessa was considered to be the main trading center in the south of the country. The main city bazaars were Greek, New, Red Rows, Skotsky (Starokonny), Privoz. Some are still there, open to buyers.
Today, the Odessa market is one of the most popular attractions where tourists rush not only to shop, but also to hear local speech, as well as to feel a special spirit, plunging into the real atmosphere of Odessa authenticity. By the way, here a mistress does not "go to the bazaar", she rather "does bazaar"! Indeed, for a true Odessa citizen, this is a place where you can relax, talk, find out the latest news and ask the price.
Privoz market remains the most famous one, about which I. Babel, E. Bagritsky and V. Kataev wrote in their stories. It is here that you will be given an opportunity to taste "pork ears", delicious corned beef or small shrimps "crustaceans". Passing through the market, you can see the signs, like "No looking with your hands", "No touching, crumpling or massaging", "Everything is sharpened here, even …", "We will help you wake up" and other funny comments. However, as Odessa residents say: "You gotta not to click with a mitt!" So as not to become a victim of pickpockets.
It is worth mentioning one more quite famous market, which arose in 1833 and exists to this day – Starokonka. If they go to Privoz for groceries, then Starokonka is for all sorts of things. Every weekend, sellers occupy sidewalks around the Starokonny Market – street trading stretches along the city blocks. Here you will find rare books, antiques, coins, objects of the Soviet period, household utensils and other interesting things.
Starokonka is a favourite place of locals, visitors, curious onlookers, collectors, and tourists from all over the world. Walking around the "flea market", you can see that people come here not only to sell or purchase, but to feel the atmosphere of communication "in Odessa". By the way, it's customary to bargain here. Sellers willingly make discounts, especially if the client is polite and with a sense of humor.
So, if you are a shopaholic or an "Odessaism" seeker, go to the market! Make sure to bring a notebook, a camera, a good mood and our guide. He/she will show you tidbits, help in choosing a souvenir and save you from minor troubles.