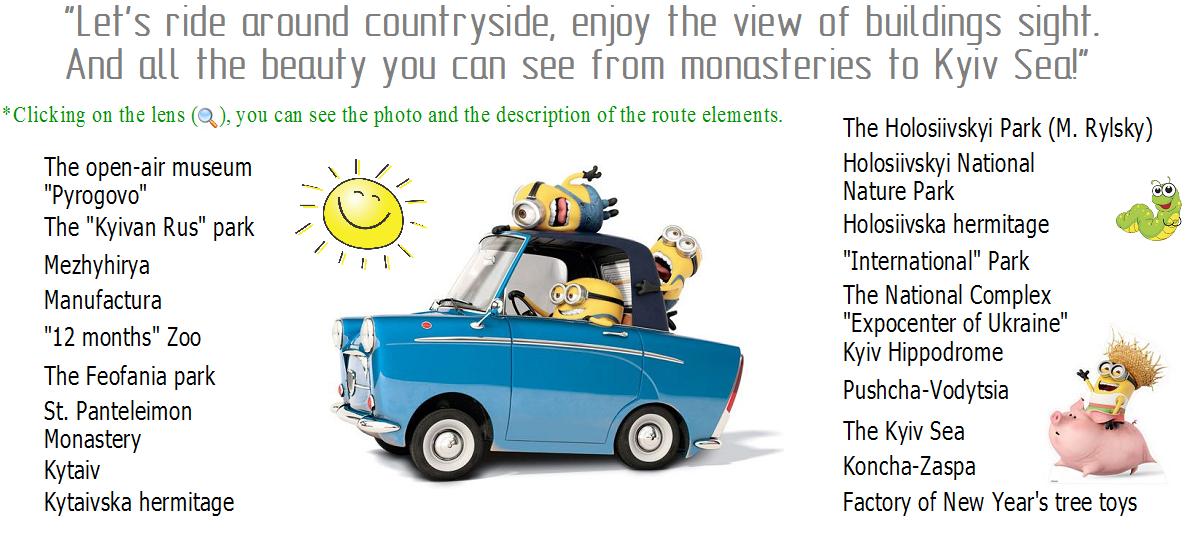 ---
We invite you to tour around the outskirts of Kiev. We offer a choice of Kitaevo, Golosiievo, Feofania park, and NK Expocenter of Ukraine. We also conduct excursions to the suburbs – Mezhyhiria, Pushcha-Voditsa, Kyiv reservoir and other places near Kyiv. In addition, we organize one-day tours around suburban attractions – Mezhyhiria, Pyrohovo, and Kyiv Rus Park. Read more about objects on this page by clicking on pictures with section names.
---
ATTRACTIONS NEAR KYIV
---
Map of Kiev and suburbs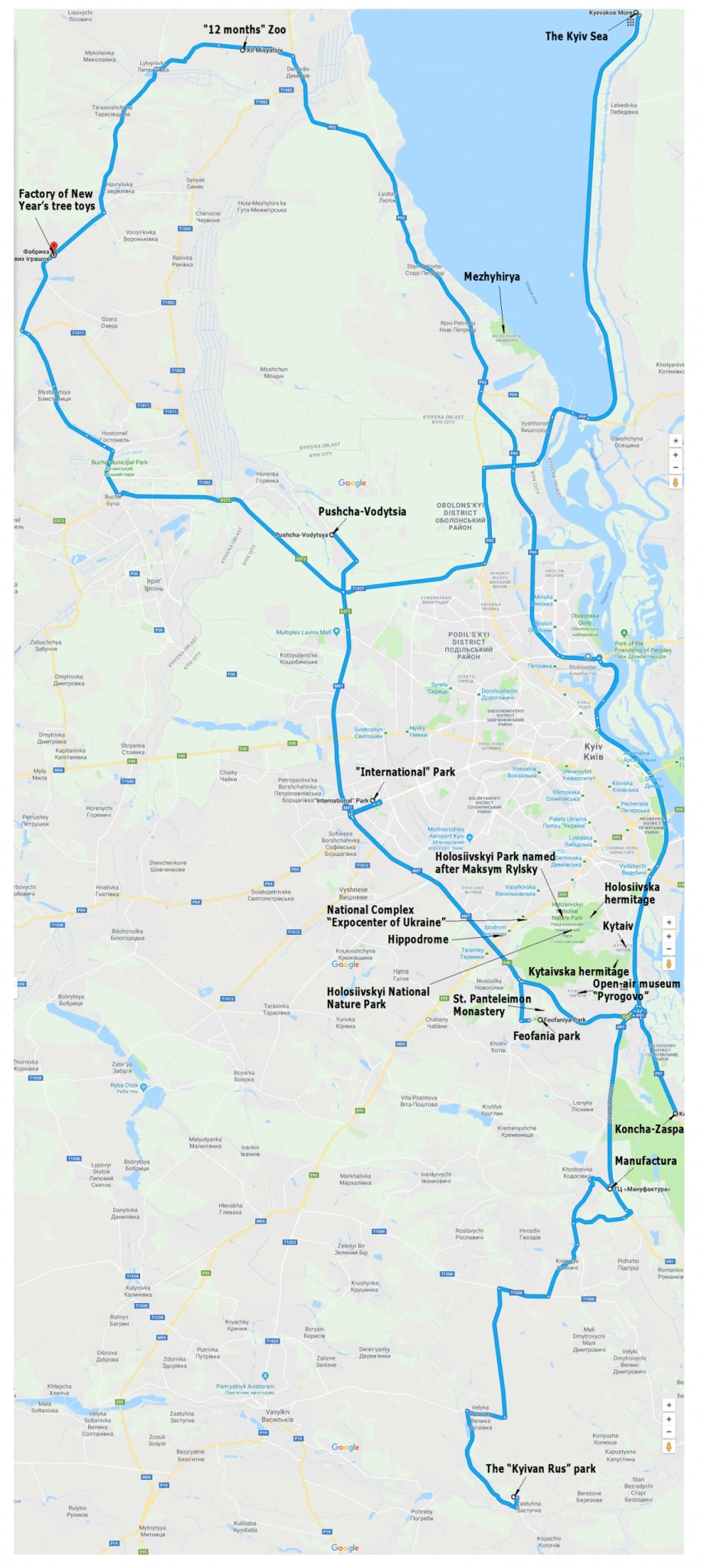 ---
There are a lot of landmarks on the outskirts of Kiev. Some of them have ancient history: Kytaevo – in X century a fortress was built there, cave cells, remains of fortifications and cemetery have survived to this day; Holosiivo – first mentioned in 1541, then the territory belonged to Pechersk monastery.
Feofania – first mentioned in the Chronicles as Lazarevschina in 1471, later belonged to St. Michael's Golden-Domed Monastery, where cells, the metropolitan house, the refectory and the houses for pilgrims were built; Pushcha-Voditsa – known since the days of Kyivan Rus, where the royal hunting took place, the territory is rich in forests, lakes, rivers, which favored the development of sanatorium resorts; Koncha – Zaspa is famous for its great location, beautiful nature with access to the Dnipro River, first mentioned in the XVI, later belonged to Vydubetsky and Vvedensky monasteries.
Some of the landmarks on the outskirts of Kiev are of a cultural and entertaining nature: Pyrogovo museum is the home to the biggest collection of constructions of all ethnic regions of Ukraine, also one can learn more about national customs and traditions; the "Kyivan Rus" park is devoted to the reconstruction of the detinets (the city of Volodymir) in its true size of the 11th-13th centuries, knight tournaments are held, ancient Slavic holidays are celebrated; Mezhyhirye – had an ancient monastery of the XIV century on its territory, the remains of which were demolished in 1935 for construction of the government suburban residence, now this place is called a symbol of corruption because of the extraordinary sumptuousness of buildings and the natural landscape.
One can visit the "12 months" zoo and spend time with the animals at arm's length and even feed or pet them. All shopping lovers can visit the town "Manufactura" where a lot of famous brands are presented, offering a permanent discount of 70%. Admirers of exhibitions and festivals can visit the National Complex "Expocenter of Ukraine". Who wants to warm up can visit the Kiev Hippodrome and ride horses, water sports lovers can go to the Kyiv Sea, where one can do wind and kite surfing. Aesthetics lovers can go to the oldest factory of Christmas-tree toys, where a rich collection of toys from around the world is collected.