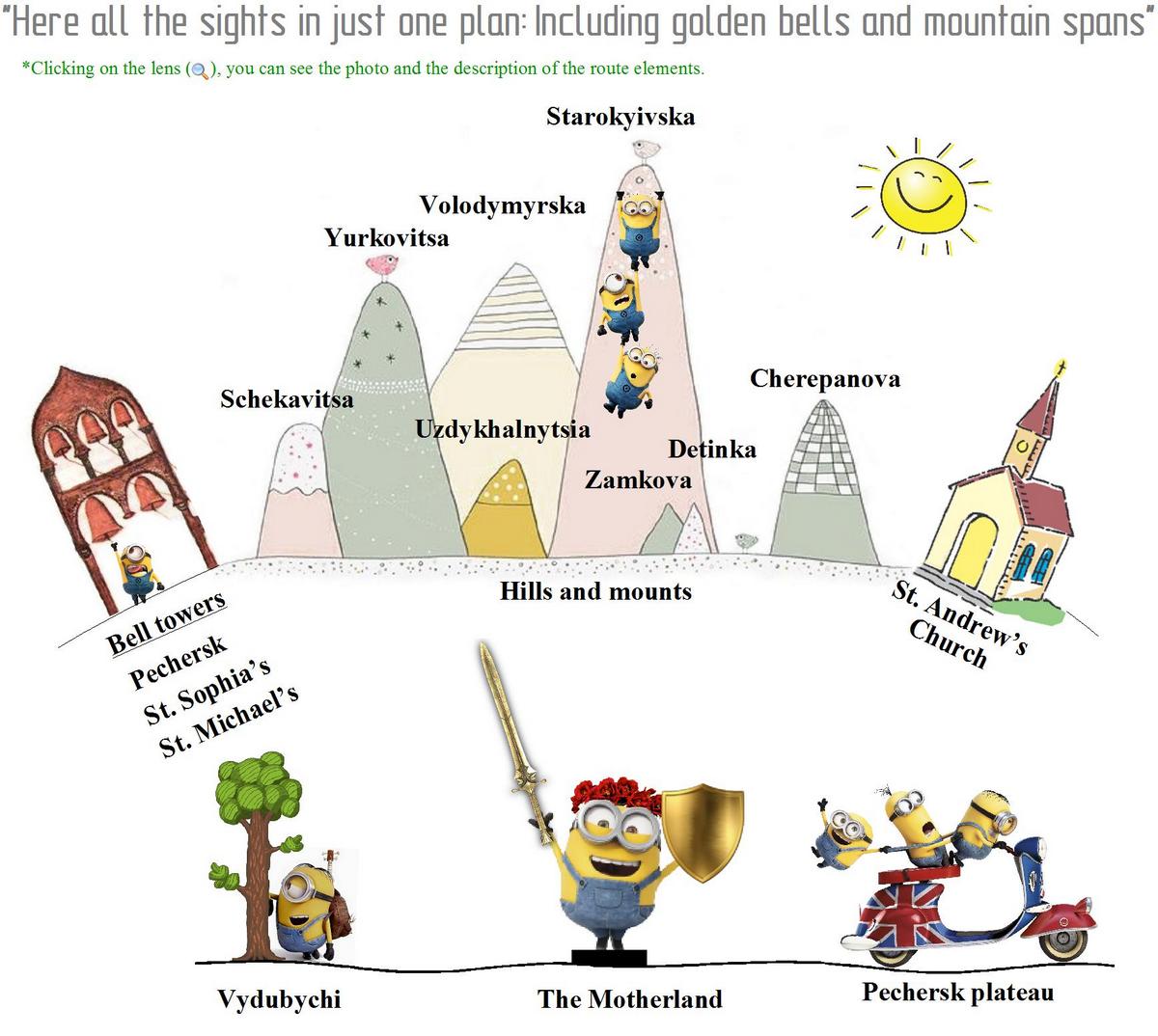 ---
Join exciting excursions in Kyiv featuring observation decks. During our trip, we will definitely visit the most picturesque viewing points, where you can admire the panorama of the city and take beautiful photos as a keepsake. Any of the routes chosen by you will include observation decks (see below). Duration – 2-3 hours.
---
VIEW SITES IN THE DISTRICTS OF KIEV
---
During the Kyiv excursion tourists would often like to take a look on Kyiv in the bird's-eye view. But people are not birds. Actually in nowadays it is possible with the help of such technical innovations like drones. But not every tourist has such possibility. And it doesn't make sense to carry all the time this technique. Nature has given such possibility thanks to Kyiv landscape tourist can admire the city from above. For that it is enough to go to different high points of Kyiv. Our guides are ready to show you all the view sites in Kiev.
Detynka hill. To climb this hill is possible from the side of Peizazhna alley while admiring the modern art and picturesque lawns.
Zamkova hill (in past Khorovica, Kyselevka, Frolovska). There is a well stairs leading to the top of the hill, these stairs were built as a symbol of amity between Ukraine and Lithuania. In XIV century the Lithuanian castle was built. To commemorate this Lithuania has financed the building of stairs to Zamkova Hora hill. There is a magnificent view on Podil and on slowly flowing Dnieper river from the hill. If there is a wish you can go to that part of Zamkova Hill where there is abandoned Frolov covent cemetery which is peacefully neighboring with sanctuary of neopagans. From this hill there is a great view on elite council estate of Honchary and Kozhemiaky with its beautiful multicolor houses (among people it is called millionaire districts).
Uzdykhalnitsa. This hill the same as Zamkova Hora hill can be reached by the stairs from the Andriiv descent side. The stairs (compared to Zamkova Hora hill) left much to be desired. But if you are not afraid of challenge you would be rewarded with the wonderful view on Podol district and Andriiv descent. Incidentally you can listen to story about ghosts of Richard's castle which is situated not far.
Starokyivska hill. The observation point of this hill is situated near the National museum of History of Ukraine. In order to expand the panoramic view, it was decided to take away the greenery from the slope of the hill, but it didn't help to expand the panoramic view.
Pechersk plateau. On the slope of this hill there are lovely shaded alleys crossing one another Petrov alley, Parkova alley, Krut Heros alley. From these alleys there is a beautiful view on Dnieper river. From these points you can go to landscape park of Pechersk (near park of Eternal Glory). The observation point near obelisk – the favorite place for selfie and photo for citizens and tourists. There is a stunning view on Dnipro river and left side of Kyiv. That's why lord Volodymyr the Great had chosen this place as his residence (earlier here was a village called Berestovo).
Shchekavitsa. This is one of three hills (including Starokyivska and Khorevica-Zamkova) on which Kyiv was founde. There was a settlement here in V-VIII which foundation is connected to name Shchek, the founder the city and brother to Kyi. There was a small monastery on the hill in XI-XIII which is mentioned in chronicles. Monk of the monastery (pope Vasyl) was invited for dignity of a hengumen to Kiev Pechersk monastery. There is a great view on the Podil district, Dnieper river and Trukhaniv island from the hill.
Yurkovitsa. In XIII-XIV here was the residence of baskak (vicar of khan of Golden Horde) and to the west there was a small tatar settlement (now here is a council estate Tatarka). From this hill there is a view on the ancient part of Kyiv named Ploske. For now, this is industrial district. The most ancient part of the building is nearby to Yurkovica hill. In XVII century the "cehelnia" (brick factory) was built by Kyryllivsky monastery. It mined shale just from the hill and there was also a distillery there. Then these enterprises were owned by Cossack colonel Hudma. In 1860-1909 here existed brewery which provided Kyiv and neighborhood with tipsy amber drink. Colorful corps and pipes of this factory have still remained.
Vydubychi. In the ancient urochishche Bydubychi where "vydyal" (started up) Perun for now, there is Central Botanical garden. There is a lot of natural and artificial terraces from which there is a magnificent view on the slopes decorated by flowers.
Volodymyrska hill. This is a spur of Mykhailo hill on which the St. Michael's Golden-Domed Monastery is situated. At the beginning of XIX century (after victory over napoleon) by the decision of Kyiv governor governance the spur of Mykhailo hill has changed name to Alexander hill (it was planned to build the monument of "victor" over Napoleon – Russian imperator Alexander I). However, after Alexander I death in 1825 the monument project was forgotten. At the same time, it was decided to build a monument of Vladimir the Great, which was frequently mentioned by Kyiv Governonr-General in letters to Nikolay I. In 1853 on the plinth in the form of chapel of Byzantium style there was installed sculpture of Vladimir the Great. Since then Alexander hill was renamed as Vladimir Hill. There is a gazebo from which there is a magnificent view over the monument and Dnieper river, also (in summer period) there are kiosks with coffee and cold drinks.
You can enjoy not less interesting panoramic views from artificial view platforms.
St. Andrew's Church. Its entrance on the view platform is paid and view comprises almost the same as from Uzdykhalnica Hill. But here you can make a close proximity photo of UNESCO World Heritage – St. Andrew's Church, it worth the price.
Bell tower with Holly gates of St. Michael's Golden-Domed Monastery. At the end of XVII century at this district there was a wooden bell tower. In 1716-1720-s on its place there was built a stone bell towet under the leadership of master I. Matveevich. In 1934 this bell tower was destroyed by Bolshevik authority. In 1997 the reconstruction was began. The height of bell tower is 48,28 meters. During its reconstruction old foundations were blocked by reinforced concrete plate. The reconstruction ended in 1998. In the lower stage (of 3) there is icon and souvenir shop and the entrance in museum of St. Michael's Golden-Domed Monastery which houses two stages. If you want to observe Kyiv from above, you can combine it with visiting the museum of Saint Varvara. Entry ticket to bell tower includes visiting the museum. So why not to take an advantage and to touch the history? On the highest stage there are set watches which were made in XVIII century. Modern clock is connected to 60 bells. There is a carillon musical instrument set. Computer clock gifted by "Shower and Zacks" are connected with the help of various electromagnetic devices to all chromatic set of bells (firstly used in Orthodox Monastery) which gives a possibility to play various melodies. Every hour clock play different melody (total 24) among them: Ukrainian anthem, "Reve ta stohne Dnipr shyroky", "Pisnia pro Kyiv", "Molytva za Ukrainu", "Mnohaja lita", etc. On orthodox holidays or on Sundays you can hear a tolling of bells at 16:40. It is carried out by monks manually.
St. Sophia Church bell tower are silent for a long time in order not to destroy the invaluable patchworks of Church which is also included to UNESCO World Heritage. However, view from the height of bell tower fascinates immediately. Apart from that visiting this museum would show you unknown pages of our rich history.
Bell tower of Kyiv Pechersk Lavra. This bell tower is also built in the beginning of XVlII century. Entry ticket includes visiting only bell tower, no museums are included as in previously mentioned places. But amazing views from observation desk on city and Dnieper river will compensate with interest your expenditures.
Interesting fact. In XVIII century all of three bell towers (Sofiyivsky, St. Michael's Golden-Domed Monastery, Kyiv Pechersk Lavra) were visible one from other (taking into account low buildings a that times) and their bell ringing was heard (taking into account modern noise level this effect is lost). First bell to ring were on the Big bell tower of Kyiv Pechersk Lavra (it was considered to be the main, because was situated in Kyiv Pechersk Lavra) after the ringing was heard in Sofiyivska Church bell tower (Sofiyivska Church was considered to be a metropolitan tower) and after Sofiyivska Church bell tower ringing bells started to ring on St. Michael's Golden-Domed Monastery bell tower and at the end it was allowed to ring bells at small churches.
The Motherland Monument is situated on the territory of National Museum of the History of Ukraine in the Second World War. It's a monument situated on the higher part of right bank of Dnieper river and was construed for Victory Day in 1981. Height of sculpture is 62 meters and total (with plinth) – 102 meters. There are two view sites (at an altitude of 36 and 62 m). If you know what is queue to the State of Liberty in New York then you'll feel grate with queue to Motherland Monument of Kiev. However, not to waste your time in queue to the lift, you should not be closed in seaside wear. Fact: German tourist who had been standing in queue was not allowed to enter the Monument wearing good flip-flops.