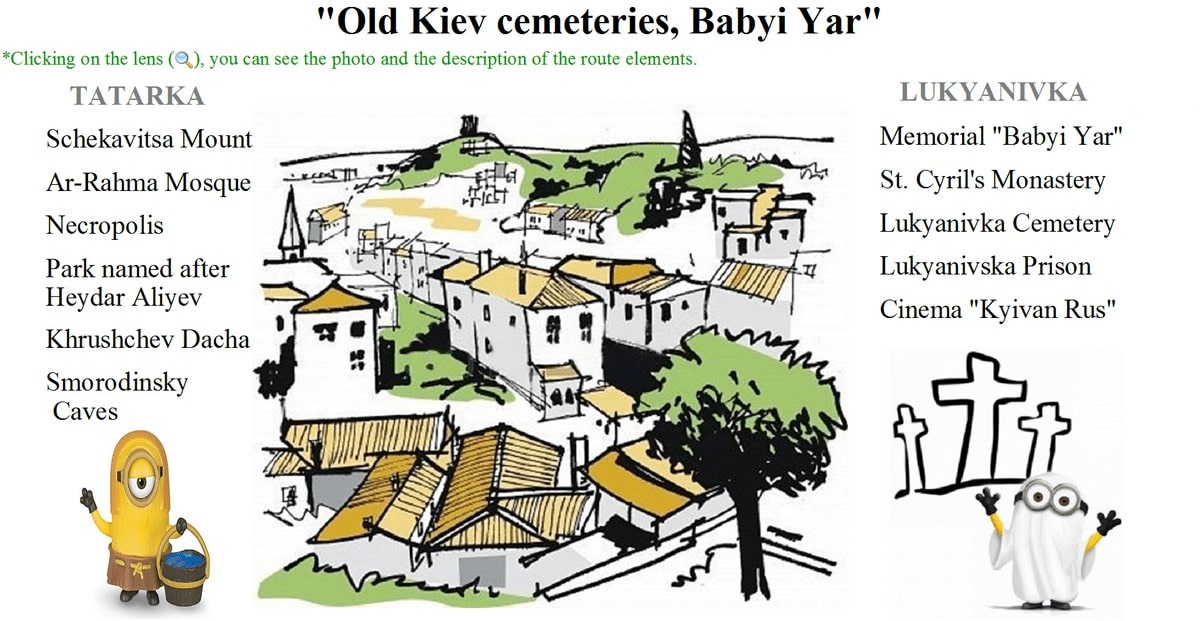 ---
We conduct tours around Tatarka and Lukianivka – the old districts of Kyiv. Tatarka is located on the hills, where modest mansions, a wooden Makariievska church, as well as the remains of the oldest necropolis, with a beautiful Ar-Rahma mosque around, are preserved. Lukianivka, once considered as a suburb, preserved the buildings of the XIX-XX centuries. Among them are: a prison castle, a tram depot, a former shelter and a Jewish hospital. During the tour, we will walk along the streets of one of the districts, as well as will get to know the history of the development of the area, its inhabitants and interesting cases from their lives. Duration – 2-3 hours.
---
Map of Tatarka-Lukyanivka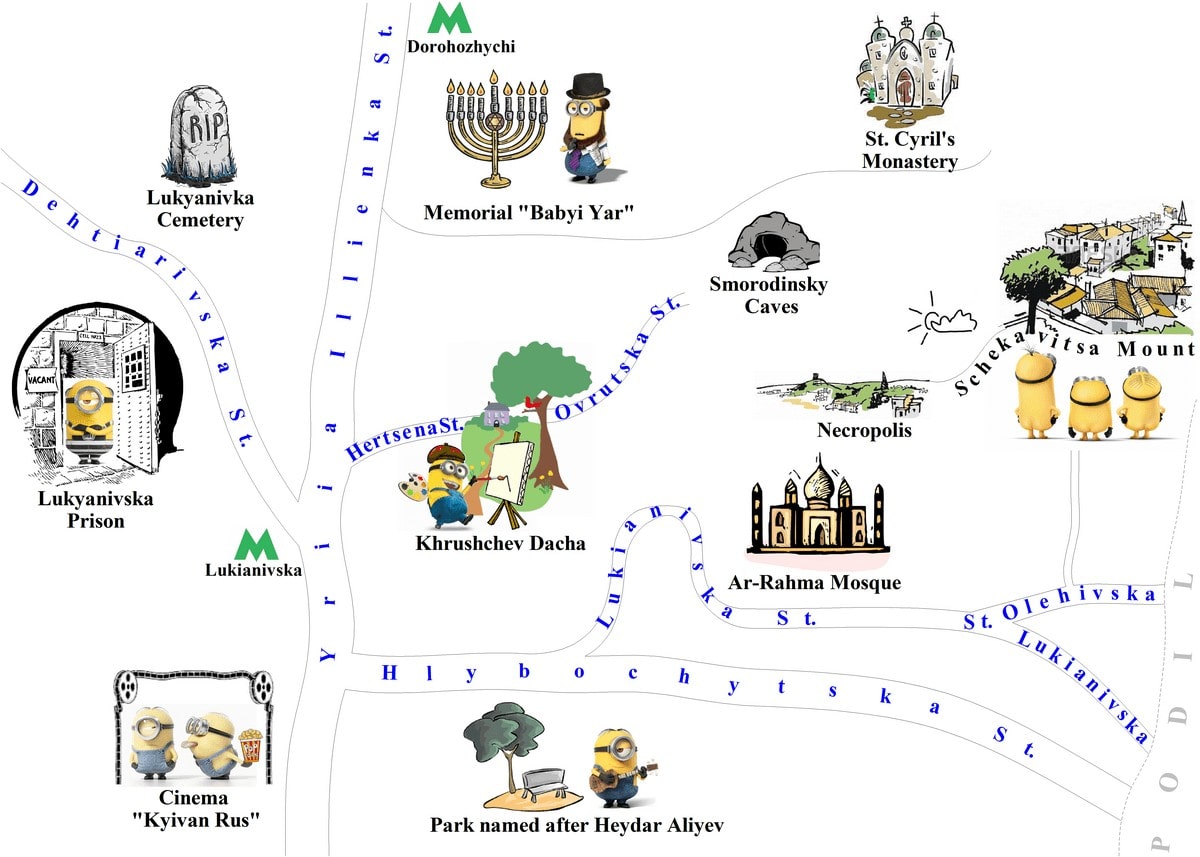 ---
OTHER INTERESTING PLACES ON TATARKA-LUKYANIVKA
---
On this route are the following objects:
Schekavitsa mountain, which offers a beautiful view of Kiev, one of the few places in the capital with such a large viewing angle. According to the legend, on this mountain is buried the Kyiv prince Oleh, who was bitten by a snake. The name of the mountain is associated with the founder of Kyiv – Shchek, who settled here.
Lukyanivska prison (1863), formerly known as the Lukyanivsky Prison Castle, was considered one of the best in Russia. Even today, famous Ukrainian politicians such as Yulia Tymoshenko, Yuriy Lutsenko and others have visited these places of detention.
Lukyanivka cemetery is one of the oldest cemeteries in Kiev (1872). On the territory of the cemetery our guides can conduct an unusual excursion, where you will examine the ancient crypts and burial places of famous people – academician of medicine N.D. Strazhesko, mathematician D.A. Grave, the pilot P. Nesterov, and others.
Babyi Yar can be singled out as a separate excursion of Kyiv, as it is unusual for its theme and the capacity of collected material. In a vast area of ??several hectares you can find ancient crypts and tombs, a large number of monuments, sculptures and stands.
On the territory of Babyi Yar there is an ancient temple – the St. Cyril's Monastery (the first half of the 12th century), preserved in its original form. Until now, preserved ancient Russian frescoes, which have no analogues in any of the temples of the Orthodox world. On the territory of the St. Cyril's Monastery every day there are guided tours.
Tatarka-Lukyanivka tour will also introduce you to the only mosque in the city of Ar-Rahma, a cozy little park named after Heydar Aliyev, the biggest cinema in Ukraine "Kiev Rus".