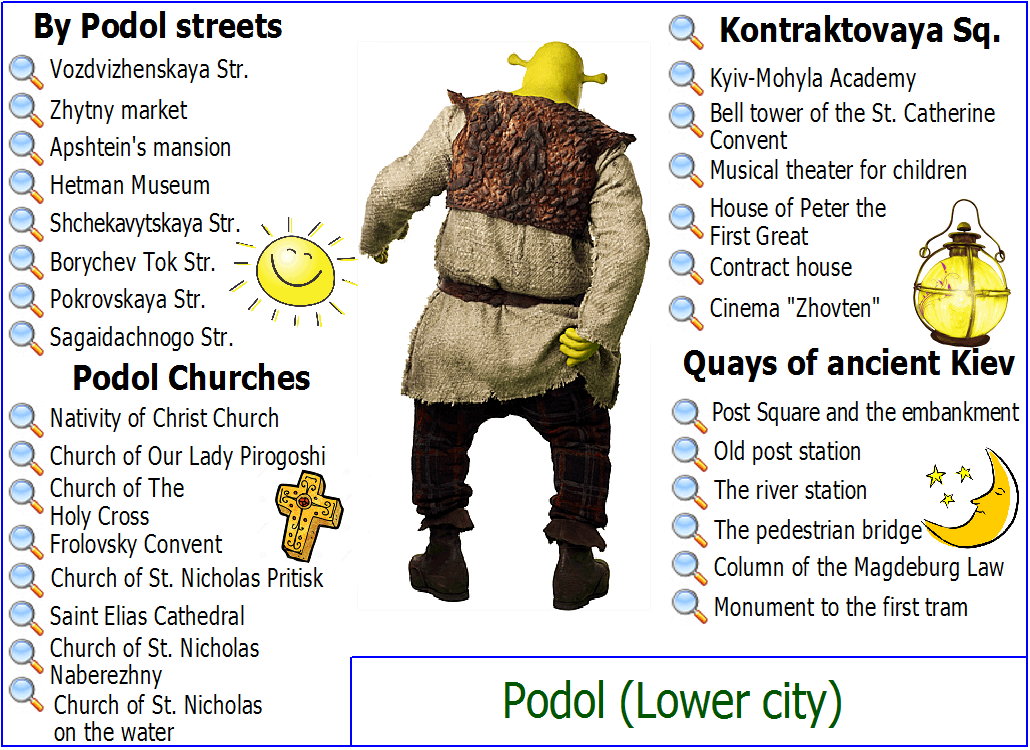 Clicking on the lens

, you can see the photo and the description of the route elements.
Podol (Lower city) is the oldest part of the capital. It is called as the "lower city" in ancient Kiev and is located at the foot of the Dnieper River. There used to be a river called Pochayna, where Kiev was supposedly baptized. Podol is one of the historical districts of Kiev, originally developed as a port part of the city, where artisans settled and active trade was conducted. In the middle of XIIth century the Podol had independent fasteners. In the annals there are numerous references to Podol, Podolsky bargaining, where the veche, which is objectionable to the prince, about the Podolsk churches, merchants' farmsteads is collected, which indicates the rapid development of this part of the city in the 12th-13th centuries.
All the structures of Podol were of logs. The material was pine logs with a diameter of about 20-25 cm, length up to 6 m. The main type of buildings were five-walled houses with living quarters, porches, often with basement, porch, galleries-canopies. The houses were heated with adobe furnaces, overlapped with gable roofs with gutted ceilings. Share was used as a roofing material. Compositions of estates had a picturesque character. Buildings were located in compliance with the rules of the "prize", which forbade neighbors to block out the views of nature, streets, buildings that are landmarks of development. Interesting information on the town-planning rules applied in Rus are available in the collection of laws and regulations – the so-called "Pilot Book", known from the list of the 13th century. It attributed to the construction of houses to put them so that the view of nature was opened, as they did in Constantinople. The rules that prohibit putting ovens near neighbors' walls, letting out smoke windows towards neighbors, planting trees near a neighboring house, etc. are also curious.
Since the middle of the 12th century, intensive stone construction has been underway in Podol. There are reasons to think that the construction was carried out not only by princes and rich monasteries, but also by trade corporations, boyars, rich merchants. Numerous workshops of artisans-artists, potters, bone carvers, jewelers, who died during the Mongol-Tatar invasion, are found during archaeological excavations in the courtyards of princely households, churches and monasteries, in urban settlements.
The center of Podol was considered to be the permanent Kontraktovaya square, where the market was held. Later, the Kiev-Mohyla Academy appeared here. Since the end of the XVIIIth century annual contract markets are held here. There was a fire that destroyed a huge number of buildings on Podol in 1811. After the fire Podol is actively built up. Gostiny Dvor and Kontraktovy Dom appeared. Today there are many ancient churches, monuments of architecture and museums. Cozy cafes and restaurants are located on Sagaidachnogo the main street of Podol. This is a favorite place for townspeople and tourists.