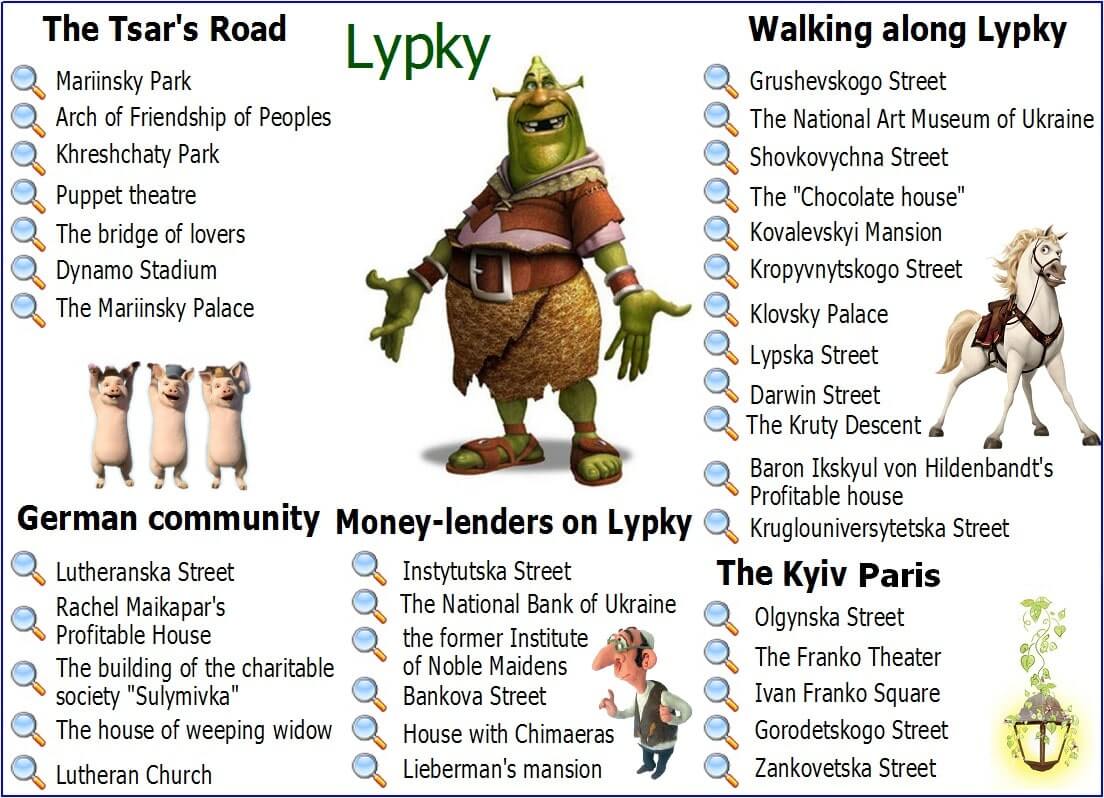 Clicking on the lens

, you can see the photo and the description of the route elements.
In 1756 at this place was built the suburban Klovsky palace on the occasion of the Empress Elizabeth's arrival to Kyiv. A large lime grove was planted around it with straight alleys in the direction of the Dnipro slopes, therefore the entire area was called Lypky. Besides lime alleys, here in the times of Peter the Great, there appeared the grape and silk gardens.
For some time it was called the Volodymyr's part, since here was situated the St. Volodymyr's Church, which was later transferred to the "New Structure". In 1833 the Governor-General Levashov destroyed a wonderful lime grove, and the Lypky were planned by laying straight streets like an arrow, which were intersected at right angles by the same streets. Destruction of the lime grove caused sharp discontent of Kyivans. The writer M.D. Buturlin (1807-1876), the grandson of Elizabethan Field-Marshal O.B. Buturlin, called Levashov's actions as "vandalism". He wrote that this "administrator cut down the pyramidal poplars, which border some streets on both sides. In his front eagerness to obey, as much as possible, a straight line, he levelled the hillside slopes of one of the streets in such a way that one unfortunate chemist lost any access to his house, because the mountain rupture came to his porch. "Wine and silk gardens were also destroyed.
In the 19th century Lypky was an aristocratic district of the city, because the Russian and Polish aristocracy settled near the tsarist palace in the area with gardens and clean air. The Polish layer was very significant in Kyiv. In Lypky the Poles had also their Gentry Assembly on the Instytutska Street.
In the second half of the 19th century Lypky and adjoining streets have turned also into the administrative, financial, military, educational and cultural center of the city. Here, except from the tsarist residence, there were also governor's residences, the Kyiv branch, the Office of the State Bank, the Kyiv Land Bank, the Kyiv Stock Exchange and the Exchange Committee, the Kyiv Military District Administration, gymnasiums, the Institute of Noble Maidens, the School for the Blind, the Solovtsov Theater, the Krutikov Circus, the city library, numerous charitable institutions, etc. This district is also rich in architectural masterpieces: House with chimaeras, Mariinsky Palace, National Bank building, Chocolate house, etc.