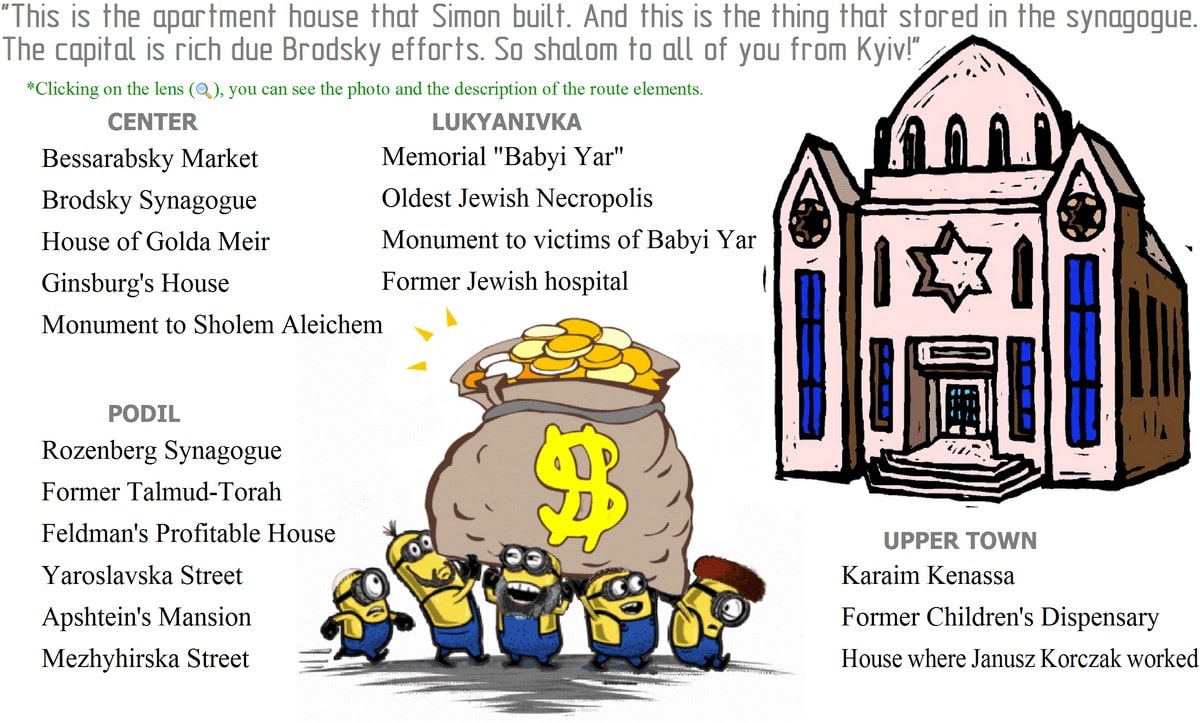 ---
Jewish Kyiv is an excursion that is dedicated to the history of the Jewish people and their life in Kyiv. During the tour, you will learn about the foundation of the Jewish community, and about contribution made by Jews to the development of the city, which has survived to this day. During the tour, you will see the Karaite kenassa, Brodsky synagogue, the building of the former Talmud Torah, etc. This tour can be conducted in the Upper City, Lypkiy or Podil (see objects below). Duration – 2 hours.
---
THE MAIN JEWISH PLACES AT THE EXCURSIONS IN KIEV 
---
During the excursion on Jewish Kyiv it becomes clear that this city is not only multinational, but also multicultural. Here doesn't take place the process as known as «melting pot». In this city all the cultures maintain their identity, at the same time enrich with traditions and achievements another cultures. However, Kyiv is famous not only by its respectful attitude to representatives of different cultures. Moreover, there is great religious freedom and tolerance in this city. It's been since ancient times.
In the soil of the city archeologists have found many materials which the Khazars-Jews and Arabs-Muslims had left. Due to this fact occurred assumptions that Kyiv's been founded by these peoples. Jewish consider that one of the Khazars hagan become the founder. Muslims believe that Kyiv has been founded by the Arab caliph Marwan ibn Muhammad, who has made a campaign north through the Caucasus ridge and captured 20 thousand Slavs on the «Slavic river» (many of the explorers call it the Lower Don, another – the Dnieper).
On the tour the Jewish Kyiv our guide minimize importance neither of points of view and tell you about Arabic dirhams and the Khazars pottery origin in archaeological sites. They have got to Kyiv not by the conquest, but by the peaceful coexistence and trade.
According to the Primary Chronicle the Jewish-Khazar community appeared very early in the area of natural boundary Kozhemiaki (Slavic: над ручаем Пасынец, бе седы и Хозары) «over the Pasynets stream where the Khazars settled». Thanks to the nomandic Khazar settlers who were famous for their leather products in ancient Kyiv was a tanner profession. To commemorate this, on modern map of Kyiv is sub-district called Kozhemiaki.
According to Chronicle considerable Jewish community existed in XI-XIII century in the area of contemporary Lviv Square in so-called Kopyrev End.  There has also been a wooden synagogue. Thus, Jewish community of Kyiv comprises thousands years as minimum. Some representatives of this community become world-famous. For example, the writer Sholem Aleichem and Prime Minister of Israel Golda Meir.
Our guide will show you the Golda's house and Sholem Aleichem monument. If you get hungry, he will take you to the restaurant «King David» with very tasty dishes. In our city there some active synagogues, the most remarkable of them is Galitska synagogue (Zhilyanska str, 97). Wonderful by its architecture is the Karaite Kenesa, there is «Actors House» now.