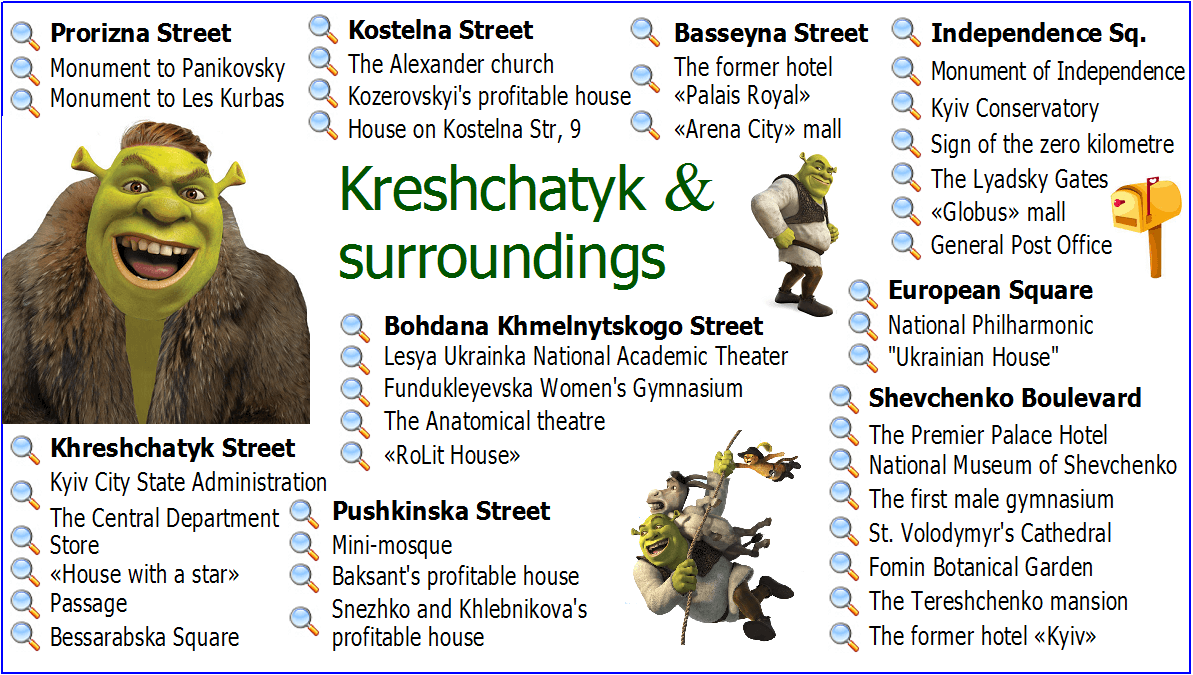 In the times of Kyivan Rus Khreshchatyk was the outskirts of Kyiv. The Khreshchata Valley surrounded this part of the ancient city and in the area of the Maidan went to the marshland – the Goat Marsh. This area was covered with a forest, in which there were a lot of living creatures. When the princes of Kyiv and their relatives went hunting, a whole banquet was organized with hymns and performances. In order not to infringe upon the significance of this or that prince, for whom the first to commend the commemorative chants, each of them took one hawk on them hunting. Whose hawk was stronger, that was preferred.
At the present Maidan during the times of Kyivan Rus were located Lyadsky Gates – one of the main gates of the entrance to the city. There were three such gates: the Golden Gates (still preserved, near the metro station with the same name), the Lviv Gates (not preserved, were located in the area of Lviv Square, exact location is unknown) and Lyadsky Gate (until now the foundation is preserved, which can be seen by going down to the restaurant "OB "). The strengthening of the Lyadsky Gate was not given proper attention, since they considered impregnable due to the swampy surrounding area, through which the Ancient Kyiv was taken by Khan Baty in 1241.
There are many versions of the origin of the street name. According to some researchers, the name "Khreshchatyk" came from the name of the area "Khreshchata Valley". There is a version that at the end of the XVIII century the name "Khreshchatyk" had Naberezhno-Khreschatytska Street, which then began from the Khreshchatytski Gates, built at the site of the present Postal Square. The Khreshchatyk road passed from these gates to the present European Square.
Now it is the main street of Kyiv, 1,3 km long, located between the European and Bessarabska squares, crossing the main square of the capital – Independence Square. Active build-up of Khreshchatyk falls on the end of the XVIII – early XIX centuries. Firstly was built up the plot from the European Square to Prorizna Street. In 1837, the street was extended to Bessarabska Square, giving the name Khreschatytska Street. Since 1869 the name Khreshchatyk was fixed. Until the early 1940's the street was built up mainly by 3 and 4-storey buildings, standing s a solid facade, and its width was 35 m. Today Khreshchatyk is not only the central street of the capital, but also the main place for visiting by citizens and tourists. On weekends and holidays, traffic is blocked here and the street becomes pedestrian. On such days concerts, parades, social events, etc. are held here. Along the Kreschatyk there are many offices, shops, boutiques, restaurants, cafes and pubs, as well as shopping malls, namely the Central Department Store and Globus mall.