---
We invite you for individual excursions around Dnipro city, on which you go on a trip along the most beautiful promenade in Europe. We'll walk around Shevchenko park, see the unique Merefo-Kherson bridge, then go to Monastyrsky Island, where you will admire an amazing waterfall. At the end we will stop in a cozy cafe or restaurant overlooking the Dnipro river. Walking tour. Duration – 2-3 hours.
---
OTHER INTERESTING PLACES ALONG THE DNIPRO EMBANKMENT 
---
Map of Dnipro embankment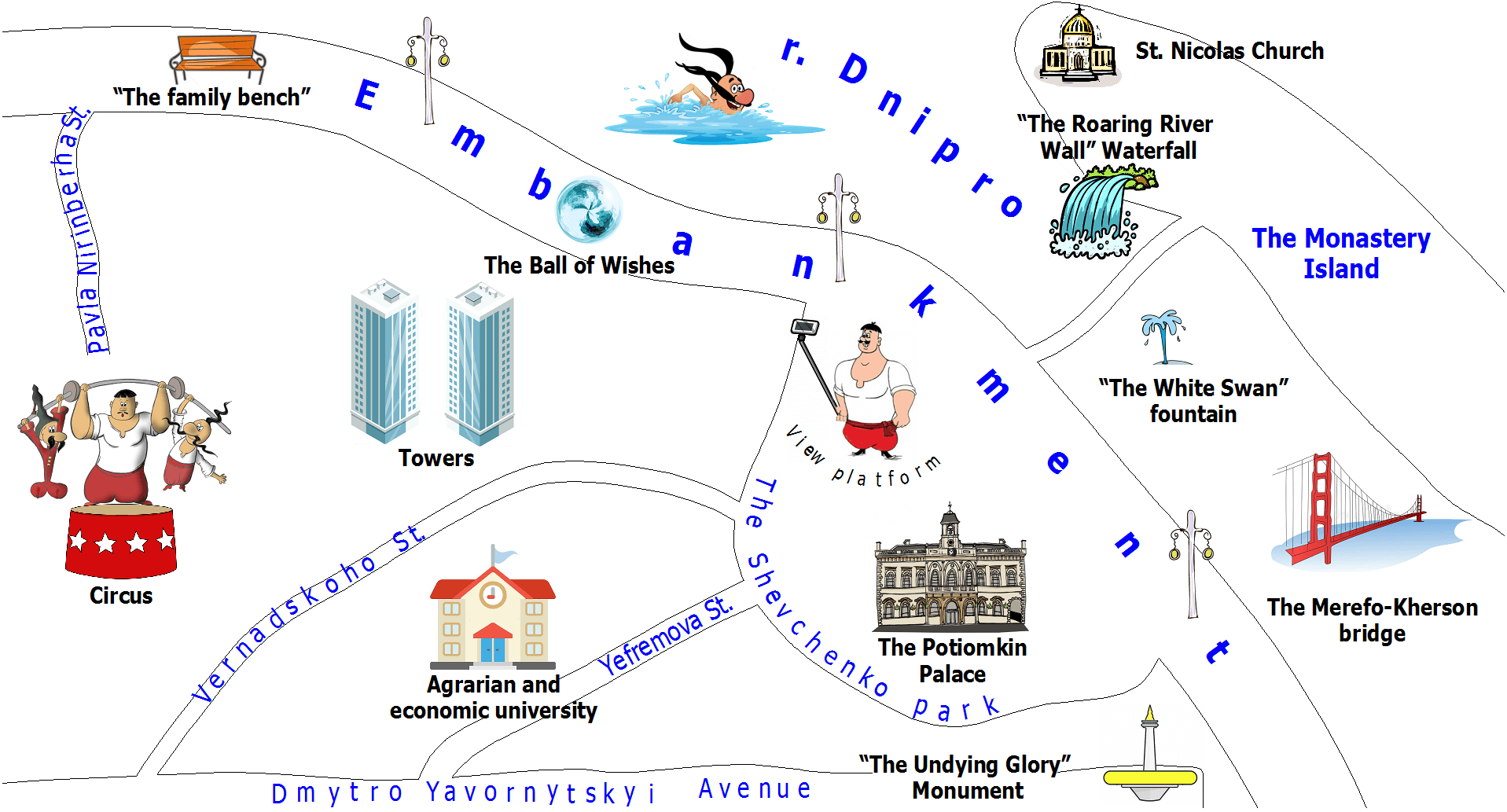 ---
The Dnipro embankment is the pride and beauty of the city of Dnieper, as well as one of its major landmarks. This is the longest embankment not only in Ukraine, but also in Europe. It's about 20 km long and consists of three streets – Zavodska Embankment street, Sicheslavska Embankment street and Embankment of Victory street. Construction of the Dnieper embankment falls on the 1950s. In the mid-2000s the embankment was completely reconstructed.
Today it is a favorite place for the promenades. Here you can see the "White Swan" light and music fountain, 50-m long "family" bench, the glass-made "Ball of Wishes" and the Dnipro Circus. Along the embankment, decorated with the green boulevard and fountains, one can find a lot of restaurants, cafes, lounge bars, pubs, nightclubs, attractions and entertainment complexes.
The embankment opens an amazing view of the Monastery Island and an unusual in its way curvy Merefo-Kherson bridge. In addition, from here you can see the artificial "The Roaring River Wall" waterfall which stretches on the slopes of the Monastery Island. "The Roaring River Wall" has long become a must-see spot.
The Monastery Island embankment connects to the pedestrian bridge. That's where the oldest city park of Shevchenko is located, which is one of the main park complexes of Dnepropetrovsk. In the park, you can find a cascade fountain, an observation deck with the view of the left bank, as well as open locations where music and dance events are held.
In summer, you can take excursions around the Dnipro Embankment by boats that run from the city embankment along the Dnieper river.
The Dnieper embankment is especially beautiful in its evening illumination. This is a romantic place where street musicians play, where one can always feel coolness and freshness of water and enjoy the view of the dawn, of the sunset or of the Dnieper bank while having a cup of fragrant coffee.
Here everyone will find something to do. For active recreation lovers, the embankment will become an ideal place for roller skating, skateboarding, jogging or cycling. The rollers' and the bicycles' rent is right there on the waterfront.
See all the charm of the Dnieper embankment and its sights by ordering our company's excursions. Our guide will gladly show you this amazing place.