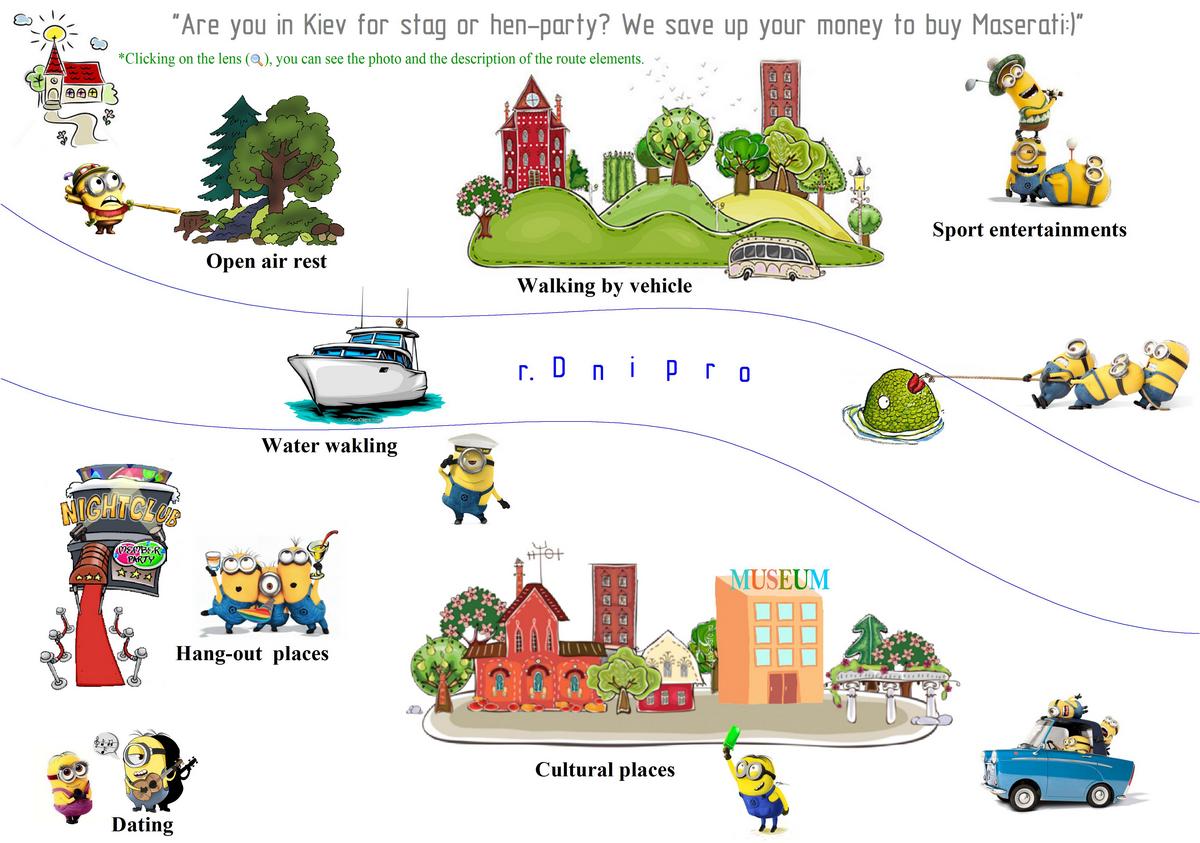 ---
We invite you to entertaining tours in Kyiv. We conduct pub crawls and gastronomic tours, a yacht tour and degustations. We also organize stag party tours, as well as party routes around the night capital. We organize for you extreem tours, such as shooting or digger tour. All programs are formed individually according to your wishes and budget.
---
HOW CAN YOU HAVE A FUN IN KIEV
---
Entertaining Kiev is the centrum of various recreational complexes, sports fields and party locations. If you want a non-standard excursion welcome to Kyiv – the city which surprises even the most sophisticated and strict tourist.
So far the entertainment centers are the most visited among local citizens and tourists. The biggest entertainments centers in Kyiv are Lavina, Dream Town and Gulliver. Here you can find any entertainment you want – aquapark, roller center, carting, leisure-time entertainment, modern cinemas, etc.
For nature-lovers there are lots of places in Kyiv where you can admire the picturesque places and have fun. Kyiv stands on the Dnieper river so first of all the water activities are recommended – form water cruises to water sports. Among the most popular places are – Hydropark, Trukhaniv island, Druzhby Narodiv park, where you can rent water transport (catamaran, boat, yacht) and water sports equipment (canoe, water-ski, kayak, etc.).
Near the city you can escape from the urban fuss, just a few km from the megapolis. The favorite places of citizens are Pushcha-Voditsa, Koncha Zaspa, Kyiv sea. The series of lakes are located in Pushcha-Voditsa and the traveling by tram through the forest zone will become very colorful route. Koncha Zaspa is located on the way out of Kyiv and is considered to be the most elite suburb. That is where the Dinamo training center is located. Forest, banks of Dnieper river, sanatorium, recreation centers – this is all Koncha Zaspa.
The unique place is Kyiv sea – it is a water storage with the square of 922 km² and length up to 110 km. Kyiv sea is the last water storage of the 6 big ones on the Dnieper river. People come here to have a picnic, to swim and sunbathe, to go fishing and surfing. In the summer time the sea temperature reaches 24 °С.
For thrill-seekers Kyiv prepared such entertainments like rope courses, paintball, carting, urban caving and trophy raid. There are lots of extreme sport clubs which offer to take part in extreme sports and feel adrenaline. To experience the speed, you can take part in competition named trophy raid. This is the off-roads crossing by the SUV or quad bikes. The trophy raid is the most popular among young people and is not prohibited by the law. The tunnels, mines and metro stations exploration will become not only extreme, but also a spectacular trip to underground. The famous digger routs in Kyiv are the waterpipe named Shtolna-1, underground river Klov and drainage system name Nikolska. To these routs you should go only with experienced guide!
For partiers and night-life lovers there are variety of pubs, lounge bars, night clubs. Today the most popular are SkyBar and FAMOUS. Favored pubs by local citizens and foreigners are Docker's ABC, Shato Robert Doms and O'Brien's, where there is always a lot of fun, fresh beer and rock'n'roll. Among lounge bars special attention should be given to TOUCH Cafe, Mur Mur and Avalon Lounge Bar. Fancy party places include CHI, The Bar and People CasualFood.
For gourmet there can be organized perfect gastro tour. On arrival to any country first of all tourists faces the national cuisine of the country. Believe, Ukraine has also lots of things to please connoisseurs of sophisticated dishes. For fact some Ukrainian dishes have taken on the world. There are some first-class restaurants In Kyiv where you can taste national dishes – Kanapa, O.B., Tsarske Selo. If you prefer European cuisine we recommend you to visit Atmosphera, Odessa or Terassa restaurants, where there is a panoramic view of the city.
There are frequent festivals, concerts, trade fairs and different entertainment activities in Kyiv. One of the most scaled festival in Kyiv is Atlas Weekend, where on stage there are as Ukrainian as foreign musicians. Annual festival which has recently become very famous is French Spring. The modern French art is presented on this festival, literature, music, theater and movie.
Trade fair «Made in Ukraine» is also quite interesting, it takes place twice a year. Here you can discover Ukrainian goods, taste and by products you liked.
Recreational Kyiv is the city of great opportunities in which everyone can find lots of entertainments on own taste.