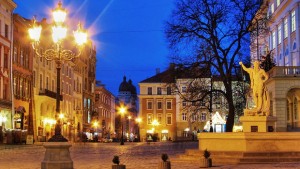 A travel to Lviv still hadn't disappointed anybody and hadn't left anyone indifferent. This is an unusual ancient city, which is really loved by tourists for its unique association of history and progressiveness. Every street and every house exhales this. As a rule, a travel to Lviv takes two days. But since you cannot see all the sights in two days, many people spend an entire week in Lviv.
There is only one life! Don't delay your journey to Lviv in a long box. We will help you. Our personal guide will meet you at the station or at the airport, find an apartment or a hostel, will give you a tour which you want, not typical. Guide will accompany you to unusual cafes that you'll remember for a long time. You can also find interesting museums and just city streets. They won't leave you indifferent..
A travel to Lviv is very convenient by train. It occupies to 8 hours and costs about 300 grivnas per person (round trip). Plane is much faster, but more expensive (more than 3000gr). Prices are very approximate, because it depends on the departure address. Trips to Lviv are really popular for New Year holidays, as winter Lviv is similar to medieval tale. All people have an emotional fatigue from work and want positive emotions. Make yourself a little holiday and after it, with fresh vigour, you'll succeed in work.