---
We conduct sightseeing tours around Lviv, where you will get acquainted with the history of the city, as well as see its main attractions – the Town Hall, Market Square, Italian Courtyard, Opera House, etc. It's a walking sightseeing tour, that runs through the center (all historical sites are within walking distance). In addition, we can enhance the route by such quarters, as Austrian, Polish, Jewish and Armenian. The tour duration is 2-3 hours.
---
Map of Lviv sightseeing tour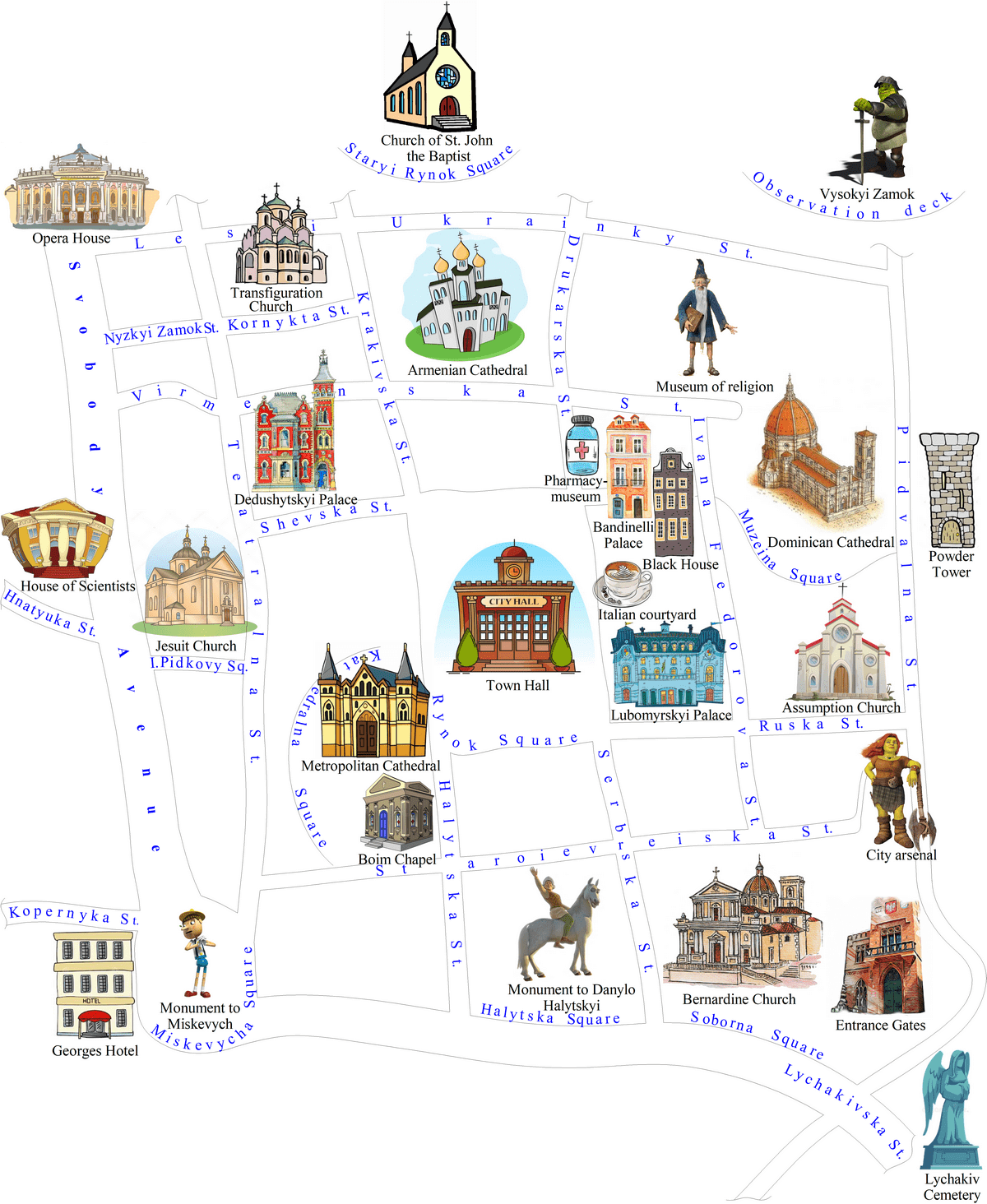 ---
We suggest indulging in the services of our tour guides and booking a sightseeing tour around Lviv. On this page we have drawn a map of the city, indicating the most interesting sights of Lviv.
Lviv is rightfully called a museum city. It should be noted that the historical center of Lviv (Old Town) is a cultural heritage site of Ukraine and is included in the UNESCO World Heritage List. Here, buildings of the XIV-XVIII centuries have survived to this day, which are architectural monuments and are protected by the state. In terms of its urban development, Lviv is a unique example of combining the architectural and artistic traditions of Eastern Europe.
For many centuries, the city has attracted the attention of various states and nationalities, being the epicenter of cultural, commercial and political life. As proof of this, today we see the architectural diversity of Lviv: buildings from the period of the Habsburg Empire, the so-called Austrian Lviv, the oldest Armenian church with its extraordinary paintings, the most beautiful Polish church with rich decoration and other religious buildings included in this list.
Lviv is a tourist city visited by thousands of tourists from all over the world. If you are visiting the City of Leo for the first time, then you should definitely do three things: drink a cup of Lviv coffee, taste local amber beer and, of course, taste Lviv cuisine.
In a few hours of excursion walk you will see all the variety of Lviv. Whichever route you choose, an excursion around Lviv will become an exciting journey for you.