Oksana works in excursions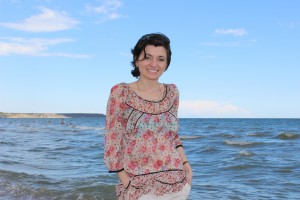 Services:
I'm a professional tourist guide, working in Lviv with great experience. I do all tours, popular in Lviv and also create individual routs.
I try to show personal interest to every tourist according to everyone's needs and interests, that's why every tour is very personal.
Age: 35
Height: 160

Knowledge of foreign languages:
English – advanced
Education: tourist guide.
Interests: I like reading, it helps me to become better and better. I like driving on high speed but still carefully. But most of all I like travelling, because of this feeling of new experience and new emotions.
Sport: fitness (callanetics).
My hobby: My hobby became my job. I'm very glad about this. And also I'm interested in interior design, I like cosiness. When I have time, I study languages. I try to study French right now.
Favorite places in Lviv:
Really hard to decide which place is my favorite, because there are a lot of them in Lviv. Every time you learn something new, you fall in love even more. There is no building in the old part of the town without some kind of story: sometimes funny, sometimes romantic and even tragic. All of this stories I try to make alive for you.
I like so-called "Austrian Lviv", meaning Lviv during government of Habsburg's Empire with all their luxury, elegance and aristocratism. The Pototsky Palace and Lviv's Nobel Casino – are my favorite ones to visit with my guests.
I know and I love our city museums and theatres since my childhood, as well as all most beautiful and romantic places in Lviv. So let's say I'm a professional citizen of Lviv, what is even more important, then professional guide.
I'm a coffee lover, so I know all best cafes, where they serve the most delicious coffee. And I'll show you them with pleasure… Lviv is the city with coffee aroma everywhere…
I'll try to give you a feeling of travelling through the centuries full of interesting, varied, still fortunate stories of our town during our tours, instead of feeling to be at the lecture of History.
About me:
In fact, I'm very communicative person with positive life position and attitude. My second favorite city in Ukraine is Odessa, because my grand-father was born there. Thanks to him, I have good sense of humor, what is very important in my profession.