Natalia works in excursions and accompaniment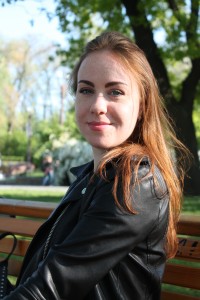 Services:
professional guide (city tour, yards of Odessa, Jewish Odessa; organization of excursions to catacombs, Moldavanka, suburban tours (Belgorod-Dnestrovskiy, Shabo), ecotours (Lower Dniester National park);
cultural part of the city (museums, theatres, exhibitions, creative events etc.).
In addition:
translator (English/Russian, Russian/English, French/Russian, Russian/French).
Age: 25
Height: 165

Knowledge of foreign languages:
English – upper-intermediate/advanced
Français – B2
Polski – В1
Education: Master of Tourism studies.
Interests: travelling, literature, ecotourism, ballet, arts, psychology, history.
Hobbies Sports: ballet, yoga, stretching, fitness.
Favorite places in Odessa:
"Do you know what is Odessa? No, you don't know what's Odessa! There are many cities in the world, but no one like this. Look at Odessa from the sea. It's a heaven! Look from the shore. The same thing…" – words of Leonid Utesov about Odessa.
Odessa, the pearl of the Black sea is always opened and hospitable to its guests. Arriving here for the first time sure it's worth to walk in the city centre – to see "corner of old Odessa', Mother-in-Law bridge, Primorskiy boulevard, admire with Opera and Ballet House, promenade at Deribasovskaya street, drink a cup of coffee at the City Garden, count the steps at famous Potemkinskaya staircase… And after this, if you want to feel the atmosphere of Odessa, you should move forward, away from touristic centre, for instance walk at Gogolya street with its old mansions and yards with wells, or pay your visit to Marazlievskaya street where every house is a masterpiece.
Yards of Odessa it's a special topic: people dry clothes there, discuss news, relax in the evening, feed numerous cats and decide vital questions. The yards are separate world with its own philosophy. During our walks we do visit couple of picturesque yards.
Opera Theatre and Philharmonic Theatre are two must-visit places if you enjoy ballet and love good music. Apart from classical theatres there are many art-platforms in Odessa, for instance open-air Green Theatre at park Shevchenko.
I appreciate good coffee, so always advise and show good coffee places, such as Make my Cake, White Whale, Atelier, Cannoli and others. I can advise good restaurants and cafes as well.
French boulevard, Lanzheron, Chernomorskaya street, Sobornaya square, Novosel'skogo street with reconstructed building of Kirch (German church) – it's also places I love and show during our excursions. Odessa is wonderful!
About me:
I can't imagine my life without travelling, that's why whenever I have opportunity to travel – I take it. My second great passion is literature: I read books, write reviews, like sharing books with my friends. I'm fond of ballet (I used to go in for ballet 3 years, not professionally), like visiting Opera and Ballet Theatre. I'm open-minded, friendly, creative. Always glad to meet new people!