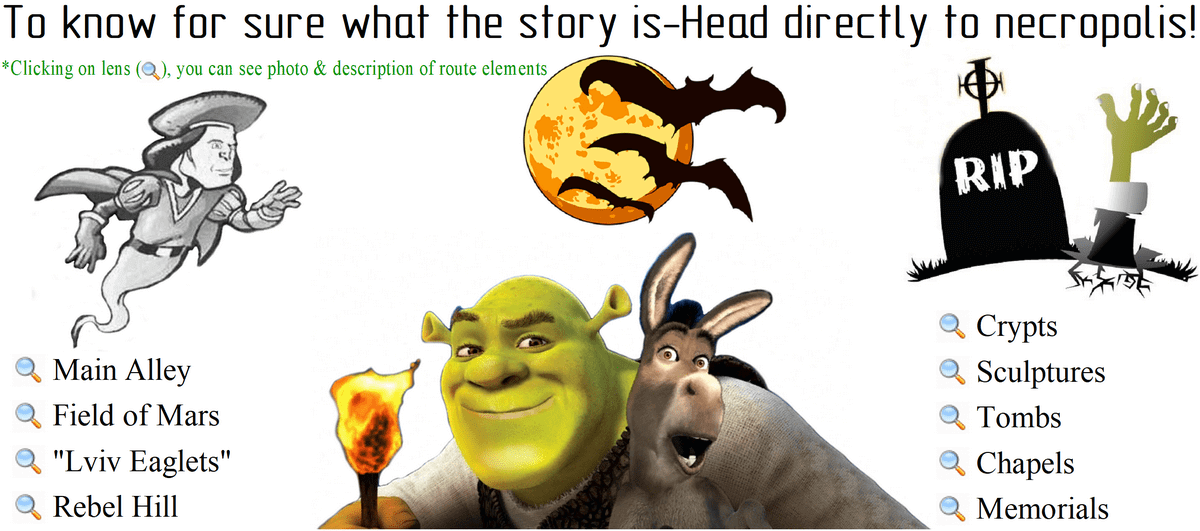 ---
We conduct tour to the Lychakiv Cemetery – one of the oldest necropolises in Europe. Today it is a national museum-reserve, where the family crypts of the Galician and Polish intelligentsia have been preserved, war memorials and monuments have been opened, famous Ukrainian figures of science, culture and art are buried. The uniqueness of the reserve is up to 500 sculptures and reliefs erected by famous local craftsmen. Lychakiv cemetery is one of the most visited sites by tourists. There is also an opportunity to conduct a mystical tour around the territory. The tour duration is 2-3 hours.
---
The Lychakiv necropolis has been open since 1786, where representatives of different nationalities and religions are buried. The oldest gravestone with an inscription in Armenian dates back to 1675. On the territory of the 42-hectare memorial, there are more than 300 thousand graves, including tombs and chapels of the local elite, which have left their trace in the history of the city. Notable personalities such as I. Franko, M. Shashkevych, S. Krushelnytska, V. Ivasiuk, E. Kulchytska and others are also buried here.
Lychakiv cemetery can rightfully be called an open-air museum. Sacred sculptures, lush tombs, family crypts with magnificent bas-reliefs and pompous monuments are truly works of art created by sculptors of past centuries. Particularly impressive is the tombstone of Regina Markovska, which is a life-size figure of a sleeping girl on a stone bed. It is worth saying that this burial gave rise to many legends, and the monument itself was nicknamed "the sleeping beauty".
Today Lychakiv is one of the most visited historical places in Lviv. Each tourist can order a sightseeing tour or a thematic tour aroundaround the area. In addition, you can book an electric car tour or a night walk through the cemetery with elements of mysticism.