---
We invite you to a one-day tour around the castles of Lviv region. During the tour, you will visit three ancient castles, that make up a popular tourist route – the Golden Horseshoe of Lviv region. You will learn not only the history of the preserved buildings, but also plunge into the life of the Middle Ages, as well as the life of kings, counts and gentry. Additionally, you can visit the monastery-fortress (XIV century) in the village of Univ. This tour is conducted individually.
---
Map of Lviv castles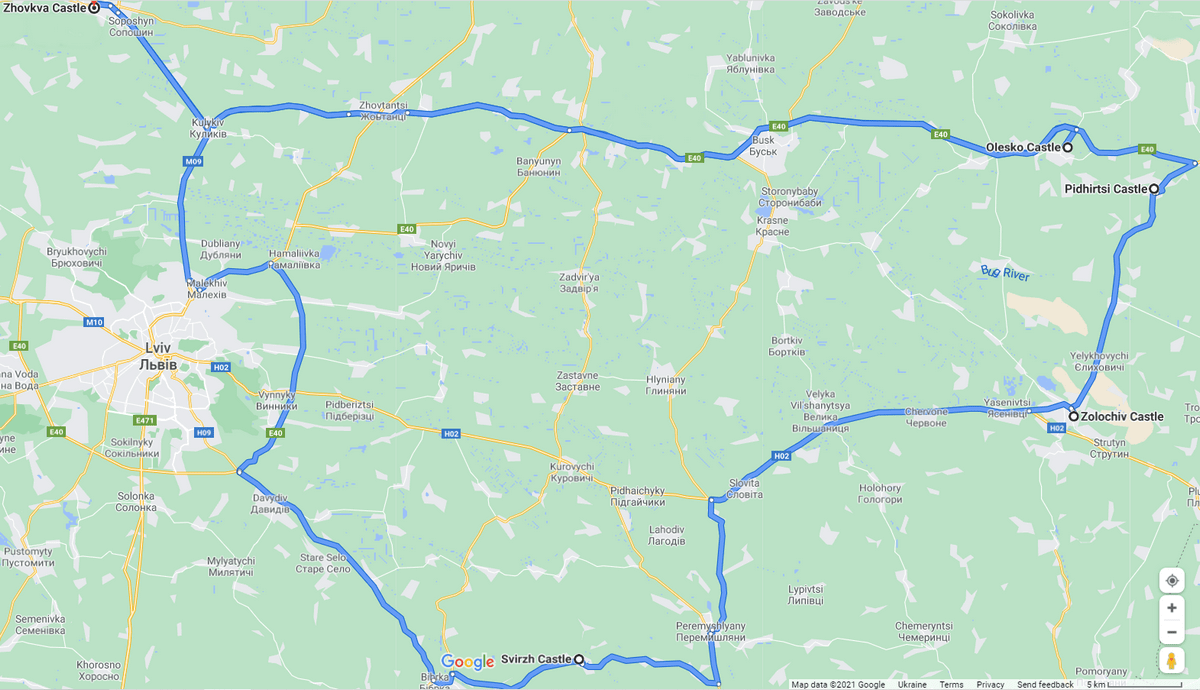 Traveling around the outskirts of the Lviv region means seeing the fortresses and palaces of the medieval period, ancient temples and monasteries, as well as luxurious palaces with picturesque parks that belonged to the Polish and Galician elite.
Once upon a time, castles served not only as dwellings, but also as fortifications. So, Zolochevsky castle was a powerful military fortress, defending against Turkish-Tatar attacks. Today it is a museum-reserve that includes architectural structures in the Renaissance style. The complex consists of the Great and Chinese palaces, a gate tower, defensive walls with bastions and a landscape park. The Museum of Oriental Cultures operates on the territory.
The most luxurious is the Pidhirtsi castle of the bastion type. In addition to the palace with spacious halls, the complex includes an inn, a church, and a park – a monument of gardening art. The halls of the palace house a gallery of Ukrainian art of the 10th-19th centuries.
Another surviving fortification ensemble is the Oles'kiy castle, which until the middle of the 15th century carried out a defensive function, and then served as the residence for magnate families. It was here that the future king of Poland, Jan III Sobieski, was born. The castle is surrounded by a park with ponds and sculptures. The architectural and landscape complex also includes the Capuchin monastery with the Church of St. Joseph.
It is worth mentioning the Svyrzh Castle, located on a hill above the Svyrzh River, which makes it one of the unique objects of defense construction. A stone watchtower was erected at its foot, while an old church served as the gate there. Above the entrance, the remains of the gentry coat of arms have been preserved.
As part of our tour, we suggest visiting these amazing, and sometimes, mysterious places, which served as a set for a dozen films. In addition to the excursion program, you will see the ceremonial halls of the nobility, stroll through the park alleys, admire the landscapes and take photos / videos with beautiful panoramic views.