Galina works in the accompaniment and entertainment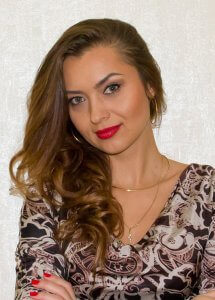 Services:
the cultural part of the city (sightseings, museums, theaters, exhibitions, churches, parks, etc.);
entertainment (entertainment centers, cafes, pubs, restaurants, etc.).
In addition:
translator from English to Russian and from Russian to English;
I worked as a shopper and a buyer and also I can gladly help you with shopping.
Age: 36
Height: 165

Knowledge of foreign languages:
English- upper-intermediate
Education: teacher of English language and foreign literature.
Interests: interior design, fashion, reading, photography, history.
Hobbies sports: sometimes watching football.
My favorite places in Odessa:
Odessa in summer is the best place in the world for holidays! People in Odessa are very friendly and communicative and never lose their sense of humour. Summer here is like one big summer weekend. Odessa is the capital of summer cultural life in Ukraine. Every year in July in Odessa takes place Odessa International Film Festival and many worldwide known celebrities come to take part in it, different exhibitions and also a plenty of concerts and culture events occur as well. At daytime you can enjoy the sun on the beach or to hide from it at some shopping-mall or playing bowling in a chilly place… In the evening to attent some museum or the theatre. Also to try the journey on a small yacht which starts from the Sea Station and to see Odessa from the sea… And I'm absolutely sure you will enjoy the restaurants in Odessa! There are plenty of them here! Odessa is an international city and it reflects on Odessa cousine as well. We can make a visit to Georgian Mimino in Odessa to try Georgian wine with Khachapuri or shashlik, Italian Bernardazzi where also suggests a big variety of different wines, Spanish Sevilla which is famous with its seafood dishes and wine, distinguished French Jardin in the City Garden, of course picturesque Ukrainian Khutorok to taste borsch and vareniki and also Japanese and Jewish and many other different restaurants here. M1 is wonderful place to enjoy the sea view with a glass of wine and tasty dinner in a good company in any season.
We can meet near The Opera Theatre which is very easy to find as it is situated at the historical part of Odessa, near the main and the most famous Deribasovskaya street and then have a walk to the Primorsky boulvard, see the monumets of Pushkin, Duke de Richelieu and Ekaterina II, Vorontsov's Palace and the Colonnade, across the Mother's-in-law bridge, Shah's Palace at the Gogol street, then to the City Garden and Deribasovskaya street.
At midnight the night-life moves to Arcadia which is famous with it's open-air night-clubs on the beach which work 24\7 May till September. The most famous are Itaka, Ibiza and Bono. Ibiza provides the exclusive concerts and performances of the well-known in Europe and all over the world entertainment stars during whole summer. Openair parties all night long near the sea on the beach tempt here people all over the world. The nightclubs at Arcadia are very popular among the turists and local people and always very crowded so I'd advise you to reserve the lodge to enjoy the performance.
I also can suggest you to attend the Dolphinarium to enjoy their show-program or visit some restaurant depending on your taste and mood. M1 is wonderful place to enjoy the sea view with a glass of wine and tasty dinner in a good company in any season. And later go to the night-club or to the downtown to wander through the night streets which have their unforgettable charm at night and full of people.
About me:
I like nature and animals very much, like to make pictures and to find some interesting perspective and to catch the moment. I enjoy live communication with positive people, to learn something new, to read, to attend the theatre, exhibitions or lectures.I dont play any instrument but enjoy music very much and go to different concerts. I'm not a football fan but sometimes I like to join this wonderful mood and to support some team. I like fashion, like to look elegant and classic, like different accessories and shoes with high heels. I cannot live a day without coffee. In autumn and winter I like to spend long cold evenings with knitting, but summer is for fun!