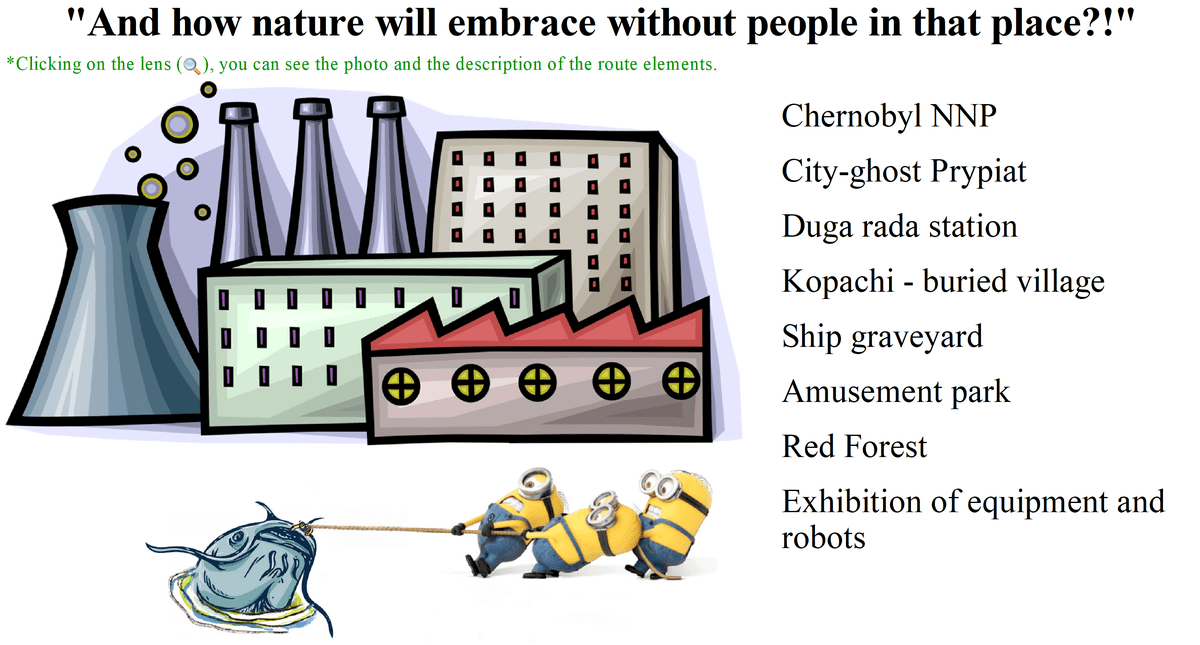 ONE DAY TOUR TO THE CHERNOBYL ZONE
---
The tour price: from 99$
The price includes: transfer, guide services, insurance and a package of documents ensuring access to the zone.
Additionally paid (if you wish): dosimeter (10$), lunch (10$), protective suit (20$).
Tour agenda:
7:45 – 8:20 Registration, boarding the bus.
8:20 – Departure from Kyiv.
10:00 – 10:30 – Check-in to the 30-km zone, passing the checkpoint.
10:40 – Zalissia village, Cherevach village, Chernobyl city:
– City tour includes a main square, a church, the "Star Wormwood" Memorial complex, the Lenin square and the monument to the leader of the proletariat, a riverport, the ruins of a synagogue, a monument dedicated to the liquidators of the accident, and an exhibition of equipment and robots that were used to liquidate the accident.
– Passing the checkpoint at the entrance to the 10-km zone. Chornobyl-2 is a secret facility where you can see the Duga radar station with the height of more than 150 m.
– Kopachi is a buried village with the only remaining building of a kindergarten.
– Chornobyl NPP – a memorial to commemorate the accident; unfinished 5th reactor; sarcophagus; observation deck.
13:00 – 14:00 – Lunch in the dining room (brought along products only).
14:00 – Red Forest. It's a unique place where you can see how radiation affects nature.
– Passing the checkpoint, entering the ghost town of Prypiat:
– City tour (without entering the buildings) – a statue of Friendship of Peoples, a kindergarten, a school, a city amusement park, a Ferris wheel, a palace of culture, the Polissia hotel, a stadium, the Prometey cinema, a fire department and a hospital where the first victims were admitted.
– Dosimetric control and departure from the 10-km zone. Last dosimetric control on the way from the Chornobyl zone.
19:30 – 20:00 Return to Kyiv.
*Some changes to the route may apply.
Please remember to bring: PASSPORT, water, jacket or umbrella (in case of rain).
NECESSARILY comfortable, maximum coverage clothing and closed comfortable shoes.
ATTENTION! Entry into the exclusion zone is prohibited to underage visitors. Persons with medical precautions for contact with ionizing radiation sources are not allowed into the area.
Please note:
1. You can use your own radiation measuring instruments or rent an individual dosimeter from us, which will inform you about the radiation level of your location.
2. Lunch is included in the tour, if booked in advance.
3. Each participant of the tour will confirm in writing that they are familiar with the rules of conduct in the zone, as well as the consent to the processing of personal data and the absence of medical precautions.
4. Rules for visitors to the exclusion zone and the zone of unconditional (mandatory) resettlement
---
Private one day tour or two days tour to the Chernobyl exclusion zone is possible.