Volodymyr works in excursions and accompaniment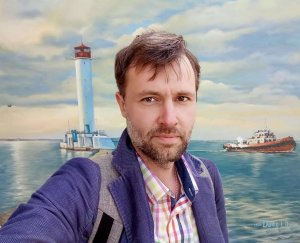 Services:
hiking and cycling excursions around Odessa (12 main sights of the City, 7 castles and fortresses of Odessa, Two-entrance courtyards , Green belt of the City, 5 streets – 5 Odessa, City of contrasts – Bottom and Clouds of Odessa);
hiking on ecological trails of the Odessa region ( Black Sea birds, wild Black Sea coast, Kuyalnytskyi estuary, Tiligula coast);
suburban routes (City on the water – Vilkovo and Danube Delta; White Fortress on the Fast River; Izmail or Mehmedabad, equal to Baghdad; City of prosperity in Yalpug; City of St. Nicholas; Gastronomic Bessarabia; The Great Steppe).
In addition:
boat excursions to the Black Sea, Dniester and Danube (in the season from April to October);
a tour of applications: you can order a particularly interesting you topic in Odessa and the region (family studies, ethnic culture, myths and legends, creative economy).
Age: 38
Height: 184
Knowledge of foreign languages:
English – upper-Intermediate
Education: Faculty of History, phd, post-doctoral study.
Interests: history and culture of the Black Sea, military history, hiking and cycling.
My favorite places in Odessa:
Santorini and other places by the sea, Palais-Royal and other courtyards, the Old Horses Market and other bustling trading places, the Artillery College and other grand architectural complexes, Museums and other islands of the past, Kuyalnik and other wild places of the present time, the Odessa tram and all kinds of things.
About me:
I like to understand and to explain.