We'll show you what to see in Odessa! This is an unusual and beautiful city, located on the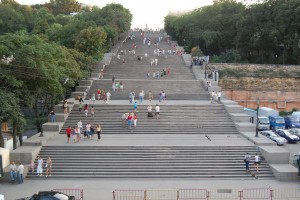 Black Sea. I think you've heard the words of the song: "Odessa- zhemchuzhyna u morya" (Odessa – the pearl of the sea). This is not just words: each street here is unique and has its own inimitable flavor and history. In Odessa live about one million people, and during tourist season quantity of the people is greatly increased.
Over the past year to Odessa came more than a million tourists. You can be among them, don't delay your trip! We'll make you sure that you will find what to see in Odessa in any time of the year. On our site you can choose a guide that you'll enjoy. He or she will meet you at the station, find a hostel or apartment, and show you what to see in Odessa.
It won't be boring standard tour, where they talk about the history and the monuments that are not interesting for you. You can choose the attractions – complete freedom! Not even all the locals know what to see in Odessa. As the song says: "I will not tell you for all Odessa, it is very large."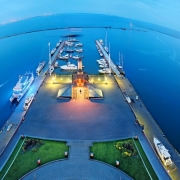 Odessa sea port – is a business card of Odessa. I think everyone has seen photos of the hotel on the background of the sea and the beautiful cruise ship. Odessa Sea Commercial Port is recognized as Ukrainian Base Cruise Port. And not just cruise. This is one of the major trading ports of Ukraine.
Here come the hundreds of merchant ships, which are unloaded by cranes. They are similar to cranes birds. It costs not once to come back here and have a great time. Stroll nine kilometer jetty, pondering over the day, lived through, and plans for the future. Watch leisurely movement of large and small ships.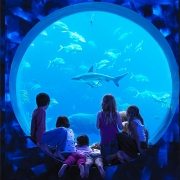 "Oceanarium". Here you'll feel yourself on the ocean floor. You'll see sea corals and a variety of fish living in the coral reefs. Formidable predator sharks, moray eels, sea rays, snakes, lizards, scorpions and spiders. You'll be delighted, and for a long time will be able to review the photos with this beautiful and unusual place.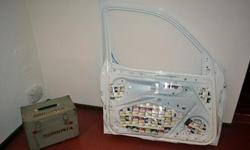 Contraband museum … This museum could appear only in Odessa. As Odessa – is a sea gate of Ukraine. Contraband always passed through them. It was created by former military A. Otdelnov. To your attention will be presented 150 contraband items confiscated, from drug – in a loaf of bread, to cigarettes – between ship boards, and more interesting things. This museum is located on the street Ekaterininskaya, 6.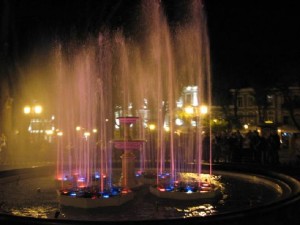 Light and music fountain is located in the Odessa city park. In fact, these are two different fountains. During the day the water flows from a central bowl, which has been restored. And in the evening – with 4 special units beat the 13 jets, highlighted with 5 colors. Playing of the fountain is accompanied by music, which varies from time to time. People like it very much. In the evening, more and more citizens are going to admire this wonderful spectacle.