UKRAINIAN NATIONAL CUISINE
First of all, every tourist will definitely get acquainted with the national cuisine of the country you came to. If you plan to visit Ukraine, then be sure, we have something to surprise. It has long been no secret that many dishes of Ukrainian cuisine have gained love, becoming popular all over the world.
Ukrainian cuisine, associated with our culture, evolved over the centuries. The peculiarity of the cuisine is rich and high-calorie dishes, mostly boiled or stewed, and quite diverse. This diversity was contributed by ethnic groups of Ukrainians and various nationalities living in Ukraine, and, of course, favourable climatic conditions of the country.
In Ukraine, for a long time grown all kinds of crops, fruits and vegetables, bred pigs and poultry. The abundance of rivers and lakes gave many fish, and forests – mushrooms and berries. On the table there were always baked bread, porridge, borsch and lard with garlic.
It is impossible not to say about the hospitality of the Ukrainian people. Many foreign guests who have visited Ukraine first of all will note this distinctive feature of Ukrainians. We go to visit with great pleasure! And the hosts greeted the guests with "bread and salt", serving the most delicious food on the table. Although today an ancient  tradition to meet with bread and salt has preserved only during wedding ceremonies. And nevertheless, if you visit the Ukrainian even for a minute, you will be asked to come into the house and be sure to invite to the table.
So what dishes  should be taste first of all?
Let's name the most popular, which became a visiting card of the Ukrainian cuisine:

1. Ukrainian borsch with pampushkas. The history of the creation goes far into the oblivion, therefore the author of this dish is unknown. We consider that borsch was invented by Zaporozhian Cossacks, and the word "borsch" was obtained by rearranging the letters from the name of the soup "shcherba". Although some Slavic peoples consider this dish to be their creation. But anyway, borsch is known and loved all over the world. And it got the biggest distribution in Ukraine. Borsch, the so-called Ukrainian or red, is brewed on meat broth or on a roast (garlic, onion, lard). The mandatory ingredient is beetroot (Ukrainian "Buryak"). Sour cream is condiment to this dish and served with a roll (ukr. "Pampushka"), grated garlic.
2. Cabbage rolls. This centuries-old dish, borrowed from other nationalities, has become so popular in Ukraine that many consider it to be national. Cabbage rolls consider especially tasty in Western Ukraine, where the quantity of recipes of this dish simply can not be count. Traditionally, Ukrainian cabbage rolls are prepared from minced meat mixed with boiled rice and wrapped in a leaf of cabbage.
3. Deruny. Another favourite dish among Ukrainians. They are potato pancakes from finely grated potatoes, which are served with various fillings (sour cream, cracklings, mushrooms). In Ukraine, in various regions of the country, the deruny are also called "dranyky", "drachanyky" or "kremzlyky."
4. Varenyky. Ukrainian national dish. Prepared varenyky from an unleavened dough in the form of a small envelope with a filling inside. Fillings can be both sweet and salty. Popular are varenyky with meat, potato, cheese, stewed cabbage and cherries. Served with sour cream, butter, onion and cracklings. Besides to the kitchen, varenyky are often remembered in folk songs and verses:
«А мій милий вареничків хоче.
А мій милий вареничків хоче.
Навари, милая, навари, милая.
Навари, у-ха-ха, моя чорнобривая…»
5. Lard. A traditional product, which is necessarily presents on the table of every Ukrainian. Even in our ancestors, lard was considered indispensable not only in food, but also in the treatment of various diseases – toothache or pain in the joints. We can not imagine a Ukrainian without lard. Even in Ukrainian jokes and fables you will certainly hear about lard:
"Two Ukrainians are talking:
"Did you hear that there is sclerosis from lard?"
"That's what I think, when I eat lard in the morning, I do not remember the whole day that I want to eat."
So in Ukraine, lard is served in any form – fresh, salted, smoked, boiled, fried. Most often it is eaten with garlic, onion, pepper and, of course, with black bread. Desserts are also prepared from lard. For example, lard in chocolate is served in restaurants as a delicacy.
And in Lviv is the only museum-restaurant  of lard in the world, where you can not only eat a national dish, but also admire the exhibition of products from lard.
And finally, the list of festivals dedicated to traditional Ukrainian dishes:
– gastronomic festival "Borshchiv" (September, Borshchiv village, Ternopil region)
– Festival "Derun Fest" (September, Korosten, Zhytomyr region),
– Festival "Lard and moonshine" (September, Ternopil).
Welcome to Ukraine!
---
FESTIVAL OF HUTSUL CULTURE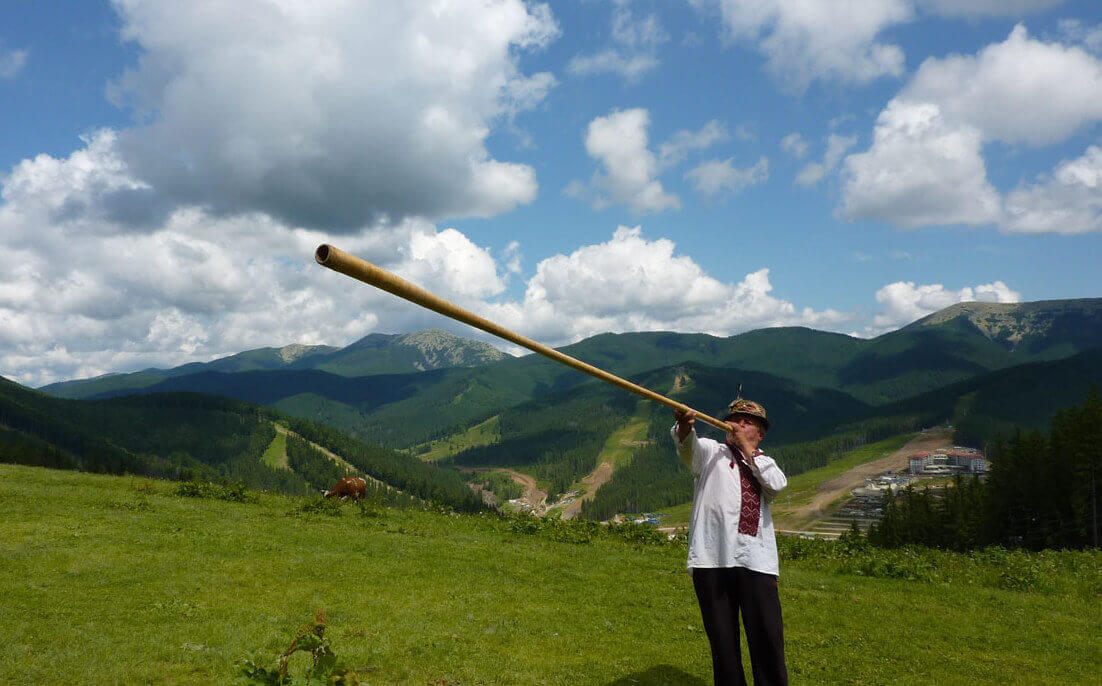 More
The Festival of Hutsul Culture is held every year in Ukraine.
On the holiday you are able to see the real Hutsul wedding and carol, listen to the concert with the participation of creative troups, taste the dishes of Hutsul cuisine, and attend master classes on the production of Hutsul's things. Also there is an exhibition-sale of arts and crafts, where you can buy embroidery, beadwork, hand-made items and much more.
In Ukraine, the Hutsuls called the ethnic group of Ukrainians living in the Carpathians (Ivano-Frankivsk and Transcarpathian regions). Long since the main occupations of the Hutsuls were cattle breeding on the mountain pasture, beekeeping, pottery and weaving. It is worth noting the ability of Hutsuls to carve wood, to sew products made of leather and sheepskin. Every tourist who has visited the Carpathians, will certainly bring home a Hutsul souvenir – earthenware crockery, slippers made from sheepskin or the famous Carpathian herbal tea.
It is impossible not to say about the Hutsul dialect that this ancient ethnos bears. For example, barabolia (Ukrainian –"картопля") is potato, haida (Ukr. "пес") – a dog, a gazda (Ukr. "господар") – the host, and the neighbour will be greeted with "єк дужі?" (Ukr. "як здоров'я?" ).
A traditional musical instrument of Hutsuls is a trembit – a wooden pipe up to 4 meters long. In olden times, using trembita, cattle were gathered, shepherds informed about their whereabouts, and in case of danger they transmitted an alarm signal. The modern Ukrainian electro-folk band ONUKA uses such folk instruments as bandura, sopilka, trembita, cymbals and bugai, which also belong to the traditional musical instruments of Hutsuls.
And what a delicious and satisfying Hutsul cuisine! Only in the Carpathians you can taste a real banosh (corn porridge with cheese), Hutsul borsch with white beets or kremzlyky(potato pancakes) in sauce.
Hutsulshchyna always attracted artists and poets, writers and directors. Thus, the film "Shadows of Forgotten Ancestors" by director S. Paradjanov tells about the life and leisure of Hutsuls. The film is based on the story of the famous Ukrainian writer M. Kotsiubynsky. The very same film was awarded many international prizes.
And how many songs are composed – it impossible to count! At least once, but everyone has heard these lines from the popular Ukrainian song:
«…Гуцулко Ксеню,
Я тобі на трембіті
Лиш одній в цілім світі
Розкажу про любов.
Душа страждає,
Звук трембіти лунає,
А що серце кохає,
Бо гаряче, мов жар…»
During the history of existence, the Hutsul lands were in the power of various foreign countries, but still they were able to preserve to this day their identity, language, rituals and customs.
[Закрыть]