One of my favorite Sightseeing excursions in Lviv begins with Stryisky Park. Striysky Park is the favorite vacation spot in Lviv, a source of inspiration for poets and composers. This park is one of the most beautiful landscape parks in Europe.
From the Striysky park we will pass to the Bohdan Khmelnytskyi Recreation Park of Culture and Resting, where there are the Monument of Fame and attractions. Then we'll go to the monument to Danylo Galytskyi. The prince Galytskyi founded Lviv and named it after his son Leo.
Also, we'll go and see the Staroevreyska street, where there was a synagogue and where Jews lived, we would also visit the restaurant "Under the Golden Rose", if there is a desire. We will see the Market Square, where there are different churches, restaurants, cafes, the Lviv City Council, as well as the Town Hall situated. After that, we will go to the mountain High Castle, from which at a glance you'll be able to see the whole city of Lviv, and there we will have a walk in the park.
Then we'll go to one of the most beautiful cathedrals – the St. Jur's Cathedral. After the first part of the excursion you would be invited to dinner. After the dinner, it would be offered to drop into various cafes. Each restaurant or cafe has historical value and pleasant aroma of coffee.
Also we'll take a look and see two beautiful theaters of the city of Lviv: the Opera Theater and the Maria Zankovetska Theater. You will be able to buy souvenirs in the "Vernissage" or in the shops with souvenirs to your taste. Then we will be able to go to one of the restaurants and have supper.
Come and discover the city of Lviv. There are a lot of things to see. And all this is called an amazing discovery.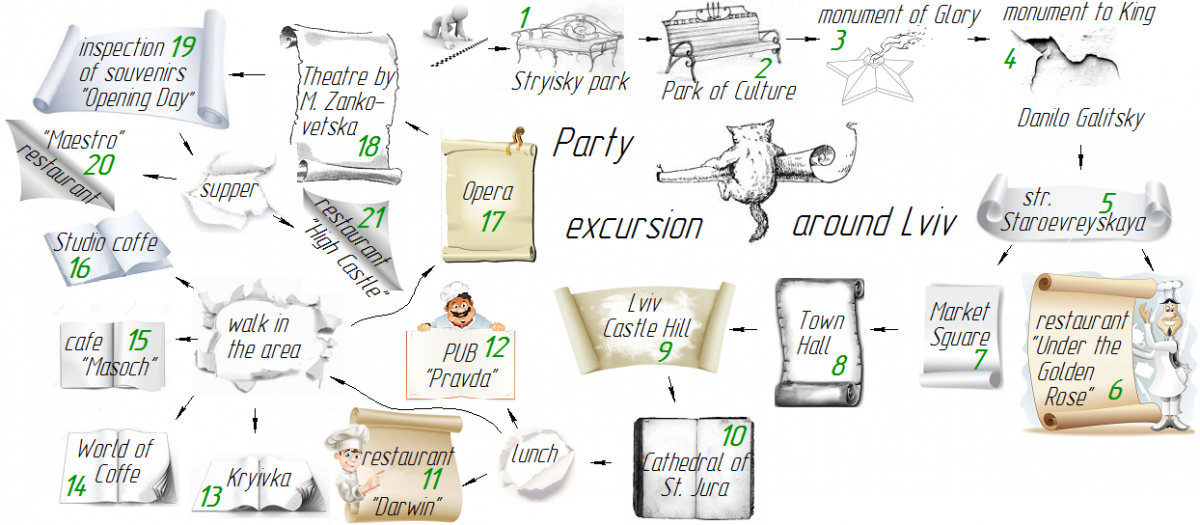 Sightseeing excursion of Lviv combines the cultural and entertainment program. Your every whim will not remain without attention. The cost is $ 20/hour (totally not more than 100$) plus associated costs.