If you decide to have a good rest in Odessa, we will help you with this! Our guide will make your weekend unforgettable. You'll not only have a lovely time, but also see the most interesting sights of Odessa, learn interesting stories about them. The first thing worth seeing in Odessa – a Potemkin Stairs. It was originally conceived as an entrance to the city from the sea. Stairs with 10 fliers and 192 steps, as if elevate the city above the sea. It says: "No matter how magnificent you are, I am above you."
Another interesting feature of the Potemkin Stairs is that when you look at it from the bottom, you see only steps. But when you climb to the top, then down only flat surface is visible. Don't you think it is wonderful!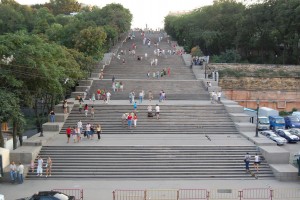 When you'll enjoy quite enough with Potemkin Stairs, turn your attention to a monument of Katherine II. She and her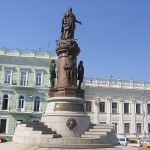 allies were the founders of the city. Therefore, residents in gratitude to them have established a monument on the square of triangular shape.
Monument to Orange. Not only to Katherine II Odessa is obliged, but also to oranges. As when Emperor Paul I became a tsar, the funding for the construction of the port has stopped. In order to appease the tsar and get the money for the construction, the carts with oranges, arrived at the port, were sent to him. Fruits relished the tsar, and he gave the money to complete the construction of the port.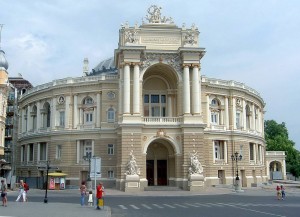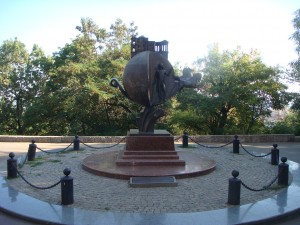 Odessa Opera House. It is not just a tourist sight of Odessa. It's the history, the business card of Odessa, the creation of art. The hall is decorated in the rococo style, drawing ornament is with gold, besides, it never repeated. The hall can accommodate 1,664 people. Garden Palais Royal – is the other side of Odessa, beautiful, romantic, and relaxing. The garden is also called "Secret Attraction" because it is hidden from the eyes by the surrounding buildings.
This is only a small part of what our guides can offer to see.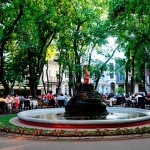 In Odessa, there are many more interesting things: Vorontsov Palace, House Wall, funicular, Odessa sea port, Teschin bridge (the Mother in Law bridge), corner of old Odessa, Shah's Palace, the house with the Atlantes, Hotel "Passage", the city garden, Russow house, Transfiguration Orthodox Cathedrall, Odessa Archaeological Museum, Pushkin monument, Philharmonic, Shevchenko Park, Holy Assumption Cathedral, Starokonny market, dolphinarium, Odessa Film Studio, Victory Park, a fabulous tunnel, resort Kuyalnik, Arab cultural Center.
Do not forget, our guide provides you with a variety of sights of Odessa, but only you decide how to spend time and what to look at!