Kiev is a very unusual and beautiful city. Not all residents know all the interesting places to visit in Kiev: this is due to the size of the city and the daily people activities.  The route of an ordinary man: work, home, supermarket, and on the weekends: the nearest park or coffee shop. Sometimes the city seems gray and monotonous, but you just do not know the sights of Kiev. They are various and of different directions.
We will try to show the most interesting and original places to visit in Kiev.It is simply impossible to count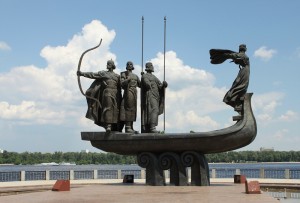 them, there are a lot of places. You can choose something interesting for yourself and your children and can walk around, get a lot of positive impressions. We try to make as many people as possible find out about interesting places to visit in Kiev, where they have never been before.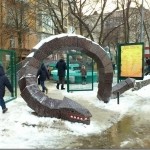 The Art park for children on Peyzazhnaya alley – it is a concept park "Two Worlds", it is divided into two zones: good and evil, as in the real world. Deep meaning is embedded in all sculptures, even parents do not always understand it. Fortunately everything is described in verse on the tablet. All of the sculptures are made by a sculptor Constantin Skretutsky. They are covered with mosaics and look beautiful, you can see it yourself.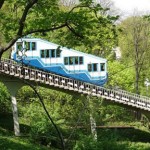 The Kiev funicular is one of the Kiev's business cards, which is not noticed by the local population, but in vain. The funicular will take you from the Pochtovaya square to the St. Michael's Square at the speed of 2 meters per second – it's two hundred meters of a rather steep climb. The opening took place on May 7, 1905, but do not worry: the equipment is not 110 years old, it was replaced.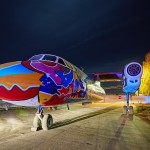 Near the Kiev airport the An-24 aircraft was painted by a very talented artist Avtandil Gurgenidze.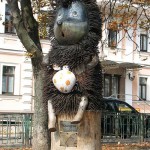 "The Hedgehog in the Fog" at the intersection of Zolotovoritska, Reitarskaya streets and the St George's Lane. The figure is carved from wood and the needles are made of screws. The Hedgehog was created by an organization "Kyiv Landscape Initiative".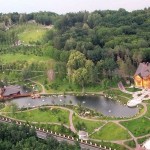 The Mezhyhiria … Probably everyone heard about it and saw it on TV. Due to the Revolution of Dignity now anyone can visit this museum of corruption and luxury.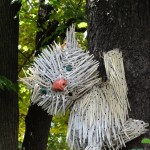 There is a cat made of plastic forks in Shevchenko park.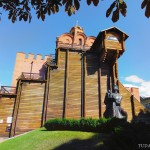 The Golden Gate  is a rebuilt version of the main gate of Kiev.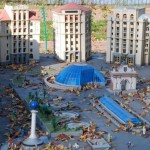 The p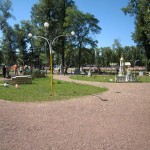 ark "Kiev in miniature" is located in the Hydropark. It was created in 2006, it gathered the most famous buildings and streets of Kiev in the form of miniature maquettes.