The Party tour in Odessa begins at the railway station (or in any other comfortable place of your choice).
After the meeting we will walk to the Opera Theater along the Pushkinskaya or the Rishelyevskaya streets. It is also possible to visit different museums and galleries on our way (the City Gallery, the Art Museum, the Pushkin Museum etc).
After the Opera Theater starts a walk to the Odessa City Hall and the Primorsky Boulevard.
Our next stop is the Odessa Sea Port, the Potemkin stairs and the Monument to Duke de Richelieu where you will see the true beauty of Odessa.
Then we will go to the Deribasovskaya street where we can stop for dinner in many restaurants and cafes.
After a dinner break, depending on your mood, we can visit the nearest clubs (Shkaf, Vykhod, Ministerium) or continue the tour in the city. In addition, we can visit the shopping center "Athens" and visit some other beautiful places like the City Garden or the Cathedral Square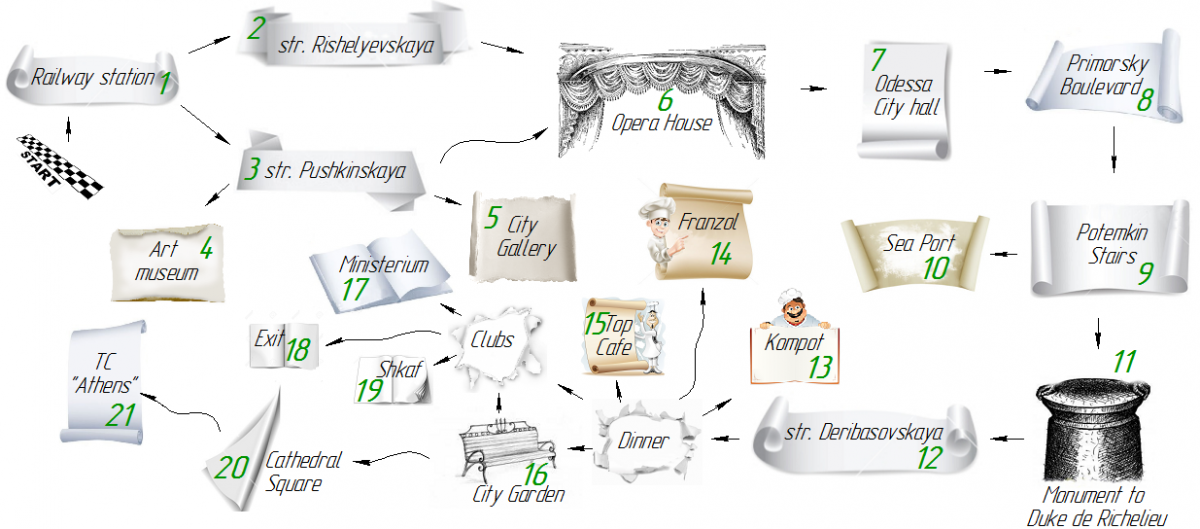 Party tour in Odessa includes cultural and intertainment programme. On your wish we can visit the best clubs. The prices is 20 $ per hour (totally not more than 100$) + associated costs.