We organize and conduct Odessa city tour. You'll have nothing to worry about, our guide will take care of you. If you dreamed to have an Odessa city tour, but don't know the city, don't know where to stay, you understand that you'll just wander around the city, please contact us. This is a great and beautiful city with a fancy history and interesting people, who have a sense of humor. Odessa is famous by its sights.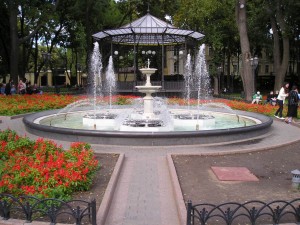 These are three of the parks: "Sculpture Garden", "Dyukovsky park", "Odessa City Garden". We also advise you the most interesting museums. It is a museum "Secrets of underground Odessa", "Contraband museum." Enticing places that are worth seeing: unforgettable Primorsky Boulevard, Deribasovskaya Street, Lanzheron Beach. Choose the guide you like. He or she will meet you at the station, find a hostel or apartment, will conduct an interesting excursion.
Your Odessa city tour will include those places that you choose from the offered by your guide. But you always can add something of your own. Tour in Odessa will be designed so that it would be interesting and comfortable for you. For example, if you are interested in the nightlife of the city, we'll offer a pub "Lyustdorf" and night clubs "Palladium», «Morgan Club». Odessa city tour can be romantic or family. Take time by the forelock, make your life colorful and interesting!