Hostels in Odessa will be an excellent alternative to expensive hotels and apartments for rent, which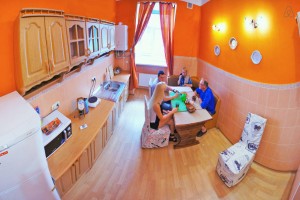 are also not cheap. Hostels in Odessa – a shelter for those who want to come to Odessa for a few days and leisurely enjoy the beautiful places, museums, restaurants. If you are a tourist and came to Odessa- hostels are just for you. You'll stroll around the city, but won't sit in a hotel room. So why should you pay so much money? Hostels in Odessa will provide everything you need: a clean comfortable room, bedside table for personal belongings, beds with fresh linens and comfortable mattress. As a rule, all hostels have new furniture, as they were opened two – three years ago.
You can prepare your own meal in the fully equipped kitchen with appliances and furniture. Also, you can take a bath or shower and toilet. All hostels in Odessa have a recreation room: it is possible to watch TV or chat with interesting people. You'll be able to use free Wi-Fi. Prices are loyal both in the center and in residential areas and do not exceed 150 grivnas per day. People who came to Odessa for work (business trip) also can check in hostels.