There is another one of the beautiful excursion in Lviv that starts with entertainment and shopping complex of King Сross Leopolis. It houses an ice rink, a bowling alley, a skating rink, cafes, restaurants, cinema, supermarket "Ashan", boutiques. Then we come to a race track, which has good infrastructure, horseracings and a training school. After that we go to the stadium "Arena Lviv", where the matches of the Champions League with participation of the team "Shakhtar", as well as the matches of national football team, are held.
Later, our excursion will lead us to the old bus station of Lviv. We will walk along the Striyska street, visit the park "Bodnarovka" and have a look at one of the best agro markets in Lviv, the market "Shuvar". Then we'll walk down the Scientific street, see the hotel "Sputnik" and the water sports complex, "Water Park". Also we'll have a walk along the other streets, visit the "Airport Lviv of D. Galitsky".
You'll be invited to have diner at one of the restaurants. Also we'll see the main building of the National University "Lviv Polytechnic", walk down the S. Bandera street, and see the monument to Stepan Bandera and the Church of Olga and Elizabeth. We'll also walk down the Gorodotskaya street, visit the Lviv Circus. We will see one of the railway administration buildings and the park "Kostushka". We'll also admire the hotel "Dniester" which offers a beautiful view of the city of Lviv. We can walk to the monument of Ivan Franko and the National University of Ivan Franko.
After this it would be proposed to walk along the Sichovyh Striltsiv street, as well as to have a look and visit cafes, restaurants (the Crooked Linden pass). Then we'll have a walk along the Doroshenka street and come to the monument to Taras Shevchenko, see the Cathedral and then you'll be offered to have supper (restaurant "Kraivka", "Masons", "Nostalgia", "Lviv Premiere" or cafe "City Hall" to choose).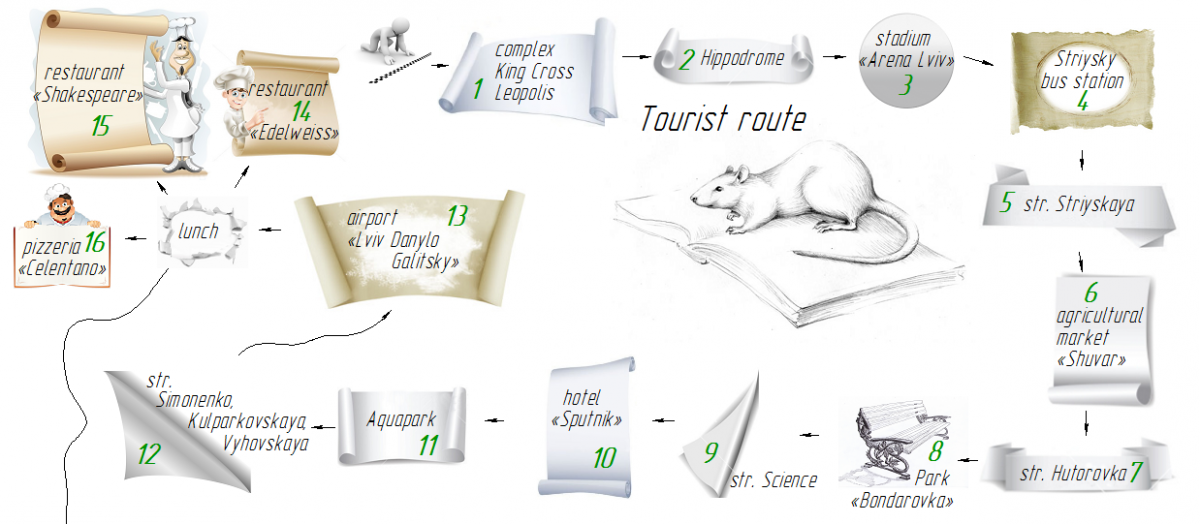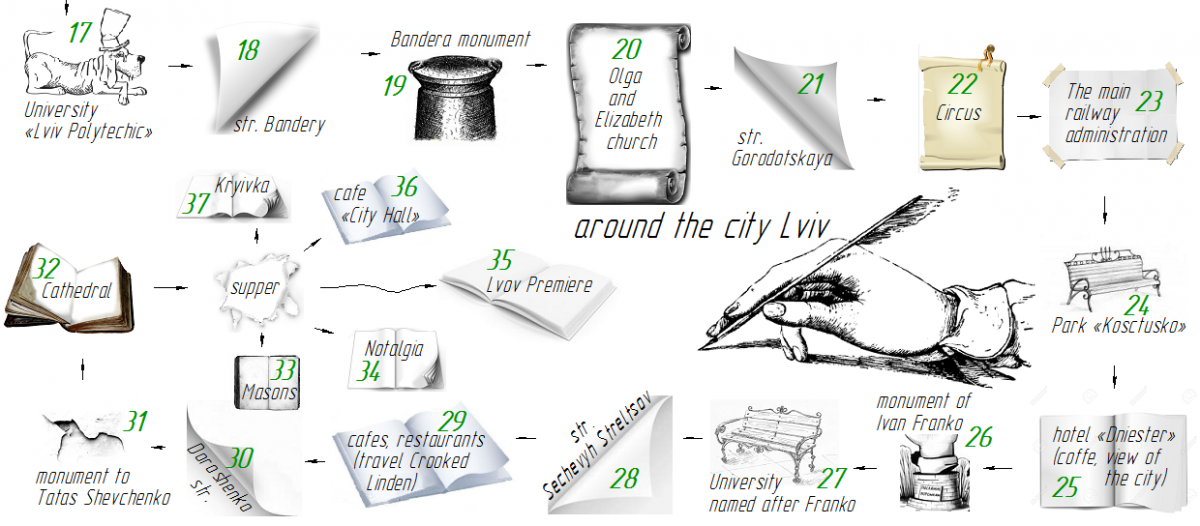 Excursions in Lviv includes the cultural and entertainment program. Interesting place and great restaurants. The cost of service – $20/hour (totally not more than 100$) plus associated costs.