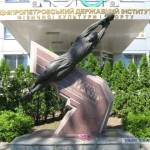 If you are unsure whether to go in Dnepropetrovsk, don't have any doubts, but rather collect your things for an unforgettable weekend in the city on the Dnieper! In this city, just as in any other, there are many Dnepropetrovsk sights. These are monuments, interesting places, which tell about historical facts, cheer you up and energize. One of the Dnepropetrovsk sights is the monument of "the last jump shot." It is located at the entrance to the Institute of Physical Culture and Sports and dedicated to football goalkeeper, who died because of a collision during the game.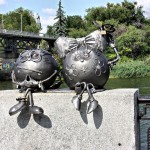 Taking a walk along the embankment, you will see the monument to the Koloboks in Love. It was named so because it looks like kolobok (fairy-tale character), and next to them on the bridge, lovebirds hang loyalty locks. This is a great place for relax, which will enrich you with positive emotions and pleasant memories.
After going through the Lenin embankment, you will see the original sights of Dnepropetrovsk – "a bench of reconciliation" – the longest bench in Ukraine, which is listed in the Ukrainian Book of Records. In the Globa Park there is a monument to the hero of Exupery story "The Little Prince." Once on this place was a monument to Samson, but it was soon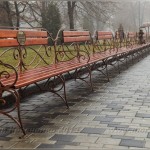 replaced by the Little Prince sitting on the ball-planet.
Strolling through Dnepropetrovsk, in the yard of an ordinary apartment building you will find a monument to a kangaroo – a symbol of motherhood.
On Yekaterinoslav Boulevard there is a monument to a man – a businessman Gennady Axelrod. Monument was set during his lifetime as a birthday gift. Five years later he was killed, so now to the monument they are constantly brining flowers. This is far from all the sights of Dnepropetrovsk. Arriving on the weekend, you'll see a lot of interesting. Our guide will meet you and conduct an interesting tour.